Gulf of Mexico
In March, the weather and the fishing patterns change and as the Gulf water temperature nears the 70 degree mark, the spring run of Spanish mackerel usually spread northward along the coast. Towards the end of the month we usually start seeing king mackerel too.
The resident offshore sharks, mostly sandbars and blacknoses, are usually be joined by blacktips and a few bulls this time of year, which is great news for shark fishermen but not-so-great news for bottom fishermen who will see more of their hooked fish bitten off.
Speaking of bottom fish, red grouper, lane snapper, porgys and other reef fish are usually steady on hard bottoms in about 70 feet of water or more this time of year. Check MyFWC.com for triggerfish season dates.
Good catches of chunky spawning-sized sheepshead often come from nearshore artificial reefs in 30 to 50 feet of water.
Charlotte Harbor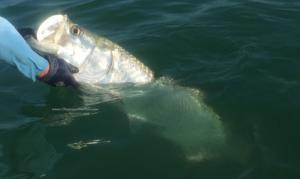 March often sees trout spread out onto the flats as spring approaches and the sea grass beds begin to thicken.
It's a safe bet to also expect a mix of ladyfish, jacks, and a few Spanish mackerel to keep your rods bent. Speaking of Spanish mackerel, schools of these fast-moving fish tend to run the outsides of the bars on both sides of the harbor and swirl around the artificial reefs this time of year.
The winter sheepshead run is often strong at the beginning of the month and will start to fade by month's end as their spawn winds down.
Snook catch-and-release if usually good this month and snook action gets better and better as the water warms.
Redfish are usually steady, and are also catch-and-release, and fishing for them improves along mangrove shorelines mid-harbor as more and more reds move out of the rivers and backwaters.
Also: there will be tarpon caught this month. Not a lot of them and maybe not consistently, but over-wintering tarpon usually start to get active in the river mouths this time of year, and it won't be long until the migratory fish begin to arrive, typically when the water temp reaches the mid-70's.