Gulf of Mexico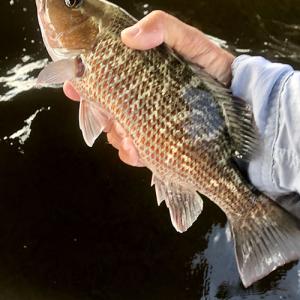 Red snapper season is open all month and there are lots of anglers who look forward to targeting these fish during the few weeks each summer that the season is open. But, catching them requires a long run offshore. Few are caught in less than 100 feet of water and most success comes from water depths of about 125 feet or more, sometimes much more. This means that runs of more than 40 miles offshore are likely, a painful prospect with this year's fuel prices!
Fortunately it's not necessary to run that far to catch fish. "Other" snappers including lane snapper, mangrove snapper, vermilion snapper and yellowtail snapper can be taken in less than 100 feet of water. Lane snapper fishing is very good during July on natural bottom areas of flat rock in as little as 60 feet of water and mangrove snapper come from rocky ledges and artificial reefs just a few miles off the beach.
Not all the fishing this month is on the bottom. Look for action on Spanish mackerel around the bars outside Boca Grande Pass and further offshore anywhere there are schools of bait. Bonita, jacks and sharks will also show around those bait schools too.

Charlotte Harbor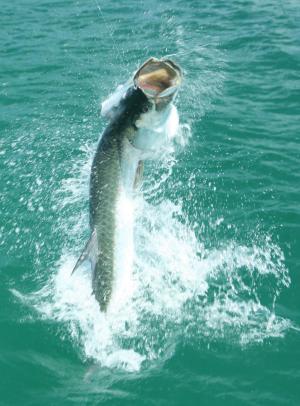 Charlotte Harbor is in summer fishing mode. Catch-and-release fishing for snook has been excellent this year, and a fair number of redfish are being caught and released too. Big tarpon are scattered throughout the estuary and might show anywhere there is more than six or eight feet of water. Likely areas to tangle with an adult tarpon include the mouth of the Myakka River, the deep holes mid-harbor, the north end of Matlacha Pass, and around the highway bridges in Punta Gorda and El Jobean. Juvenile tarpon are schooled in some of the deeper canals and boat basins. Shark fishing is going strong for blacktips, bulls, blacknoses and Atlantic sharpnoses with a few lemons and hammerheads being caught too. A common tactic is to get a chum slick going to attract sharks and then freeline shrimp or shiners for Spanish mackerel while waiting for sharks to show. There are still cobia being caught in the harbor, but remember that there is a new size limit of 36 inches fork length that became effective on July 1.