Although our area is known for amazing and varied outdoor activities, our culinary scene continues to grow and excite.
In fact, there are so many stellar local restaurants that Punta Gorda won second place in the 2020 USA TODAY 10Best Readers' Choice Awards - Best Small Town Food Scene – the only Florida destination nominated!
In honor of this nomination, we've compiled a list of Punta Gorda restaurants offering exemplary food and drink, service, ambiance, and some special extras.
 
Carmelo's Italian Ristorante
OpenTable named Carmelo's one of The 100 Best Al Fresco Restaurants in America and they've earned plenty of other accolades, including more from OpenTable and from Harbor Style and TripAdvisor. Carmelo's recently refurbished their floors and brick walls, adding to the ambiance that serves as icing on the cake of the seriously-wonderful-food that is their menu. Try the Bada Bing Pasta. Trust.

The Perfect Caper
The lauded Asian-French cuisine at The Perfect Caper is inspired by Chef Jeanie Roland's world travels.
Nominated multiple times for a James Beard Foundation Best Chef in the South award, Chef Roland did actually beat Bobby Flay on the Food Network show Beat Bobby Flay, and has competed on Iron Chef Gauntlet.
The Perfect Caper is the only Charlotte County restaurant to earn a Golden Spoon Award, Florida's top culinary nod. 
 
Dean's South of the Border
Dean's is a family-owned and operated Tex-Mex treasure routinely recommended by locals and visitors alike. A community institution since 1992, Dean's is a comfortable, cozy, friendly neighborhood place with great food and a relaxed atmosphere. Whether you get the food to go or enjoy dining in accompanied by live music, Dean's always provides a good experience.
 
Take a Virtual Tour of
The Celtic Ray Public House
The Celtic Ray Public House
The Ray has been recognized as one of the best Irish Pubs in Florida and the food, beer, and atmosphere are appropriately amazing. With a roomy beer garden and outdoor stage, The Celtic Ray is the perfect place to spend an evening with friends enjoying a variety of live music, trivia nights, and more.
 
Italia at River City Grill
Most of their produce comes from local growers, exhibiting commitment to "quality, organic living, and environmentally-friendly farming." They also use fresh clams harvested from local waters, the finest Italian cheeses available, and only fresh mussels, fish, and chicken. Italia even raises their own Red Angus cattle at a nearby ranch. After 17 years in business, it's clear they know what they're doing food-wise. 
 
F.M. Don's
The dining room of F.M. Don's is a lovely space where you can see the history of Punta Gorda on the walls. Chef/Partner Keith Meyer became a "Punta Gorda favorite" soon after moving here. He uses French techniques and keeps his menu "fresh, varied and approachable." You'll sometimes see him in the dining room, revealing cooking techniques and checking in with diners, which demonstrates the restaurant's "…genuine desire to meet and exceed the expectations of [their] guests." Definitely worth a special trip.
Peace River Seafood & Botanicals
This community gem draws many locals, seasonal residents, and visitors alike! Those who like seafood know that Peace River Seafood & Botanicals is the place to go. Bonus: you can find locally-sourced honey, cold-pressed juice, and more at their fresh market, and locally-harvested natural remedies, and much more. Word of advice: do not miss the Blue Crabs!
The IceHouse Pub
This authentic English-styled pub is in a building built in the 1890s that was, indeed, an ice house. With 26 taps dispensing the best beers from around the world (like Guinness, Boddingston's, Stella Artois, etc.), British-style pub entertainment including competition-style dart boards, and a full British-themed menu of staples like Fish 'n Chips, Cottage Pie, and Bangers &  Mash (as well as American favorites like cheeseburgers, steak sandwiches, and giant salads), The Ice House Pub is a destination in itself.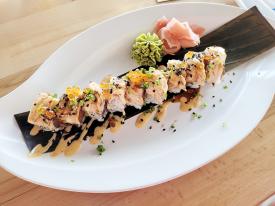 The Pier
Fresh, beautiful, and surprising entrees and scrumptious sushi would be enough, but The Pier is also one of the waterfront restaurants at Fishermen's Village, so the ambiance includes spectacular sunsets and wonderful views. Irresistible! 
Sandra's Restaurant
Talk about legit! Sandra's is German-owned and operated, and serves authentic German and European cuisine using their own traditional family recipes. They also offer partially-baked Authentic German Breads made with fresh, natural ingredients and no artificial preservatives, flavoring or coloring. They feature live music on the weekends, and Schnitzel night is Wednesday.
 
Of course, we've barely scratched the surface of our splendiferous food scene, so we encourage everyone to explore our entire area for new and different restaurants and experiences. Enjoy!