No matter if you're looking to challenge yourself against a tarpon or other wily sport fish, catch your dinner (and have someone else cook it!), or just take a few hours away from the hustle and bustle to commune with nature, you'll find the perfect angling experience in Punta Gorda/Englewood Beach.
There are so many kinds of fishing in the area that anyone can find their perfect catch…but where to start? Many of our charters offer several types of fishing, but here are some recommendations to get you started:
 
Offshore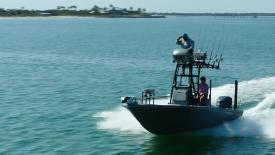 For deep water adventure, try Silver Lining Charters. If you're traveling with kids (up to 2, with a maximum 4 adults) who want to drop a line, call Capt. Van Hubbard for an all-ages charter.

Inshore: Back Country/Flats
Explore the backcountry with Big Bully Fishing or the flats with Captain Steve Hogan. For a truly unique experience, head out after dark with Nightstalker for some bowfishing…from an airboat!

Fly Fishing
Find a challenging fly-fishing experience with Punta Gorda Fly Fishing Charters or with Captain Les Hill.
On Your Own
If you're looking to drop a line on your own, first get a fishing license from MyFWC.com, then head to a local bait shop. Fishin' Frank's offers bait and gear, but more importantly, expert advice on where to fish.
Downtown Bait and Tackle is located at Laishley Marina and can help you out with rods, reels, tackle, and bait of all kinds.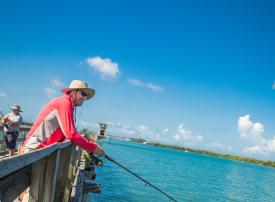 You'll also find fishing piers across the area, like the El Jobean Fishing Pier on the Myakka River, one of the piers at Bayshore Live Oak Park on the Peace River, and Placida Fishing Pier on Gasparilla Sound.
For a wholly different experience, try casting into the Gulf of Mexico at Englewood Beach or Stump Pass Beach State Park.
Freshwater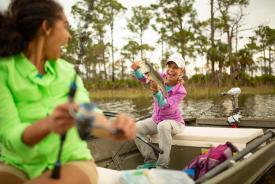 Try freshwater fishing at Webb Lake or the Marl ponds at Babcock / Webb Wildlife Management Area, at Lake Babcock in the town of Babcock Ranch, or at one of these peaceful spots throughout the area. You can fish from the shore at any of these, set out in your own canoe or kayak, or rent a kayak at Lake Babcock. No gasoline-powered boats are allowed on any of our freshwater fishing spots, so no worries about scaring the fish away.
Here's to long days with tight lines and bent rods!