Punta Gorda is a beautiful and historical small town nestled perfectly at the junction of the Peace River and the environmentally-significant estuary of Charlotte Harbor, but that's not all! It's also a destination that offers captivating attractions and experiences that make any visit memorable.
Here are some of our favorite unique spots and activities in the area:

1. Radioactive Fountain
One of our most unconventional local landmarks is an unassuming water fountain on the north corner of West Marion Avenue and Taylor Street which dispenses radioactive water. You read that right! This artifact has been profiled by publications as diverse as National Geographic, RoadTrippers, and Mental Floss.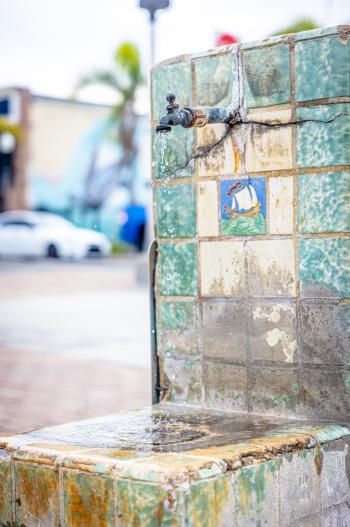 Rumor has it that locals and visitors alike still drink from it and swear by the water's restorative properties, but we cannot confirm nor deny—nor recommend—that. It does make a great background for a singular selfie, with the Florida Health Department warning sign on the fountain reading:
"Use Water at Your Own Risk: The water from this well exceeds the maximum contaminate levels for radioactivity as determined by the United States Environmental Protection Agency under the Safe Drinking Water Act."
 
2. Stargazing
Starry Night Florida is the definition of unique, as the only place to take a stargazing tour of the fascinating night sky. View amazing celestial objects through a powerful telescope and hear fun stories about them.
The tours take place in Hathaway Park, which feels remote—and has next-to-no light pollution—but which is only about 10 minutes from Punta Gorda. 
This is a fun outing for all, from families with kids (6 and older only) to couples, friend groups, and anyone interested in the stars. They provide mosquito jackets, binoculars to use, and refreshments.
 
3. Creative Refreshments
For some chill time in a great atmosphere, visit Downtown Kava, housed in the historic Punta Gorda Train Depot, the sole remaining Mediterranean Revival style depot built by the Atlantic Coast Line in 1928.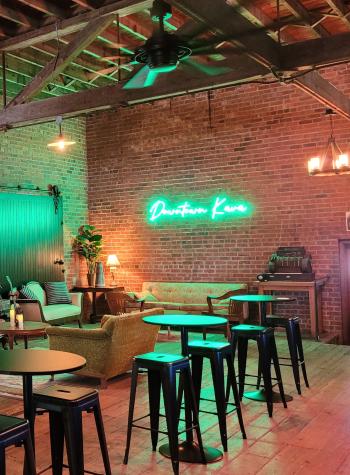 Downtown Kava offers an intriguing drink menu full of coffee, tea, boba, kava, and botanical elixirs from around the world, including CBD options. Their after-hours Sober Speakeasy features re-imagined classic cocktails with none of the alcohol. You may even get to experience the train chugging by.
 
4. Authentic Old Florida…with a Twist
Peace River Seafood and Botanicals, a local institution for two decades, is housed in a bona fide Old Florida Crab Shack, one of the last in the state. They serve the freshest seafood around and their She-Crab Soup is locally famous. They also offer an always-fresh seafood market as well as their newest creations: CBD and Kratom products locally grown and crafted in-house.
 
5. World's Largest Reptile Zoo
IguanaLand is officially the world's largest reptile zoo, with over 230 species on exhibit. Enjoy unique and rare species of lizards, turtles and tortoises, and snakes. You can book an animal encounter to get up close and personal with the animals, but even a "regular" tour is a fascinating experience. 
Now is also the perfect time to plan to attend IguanaFest 3, a celebration of all things reptile.
 
6. Calostimucu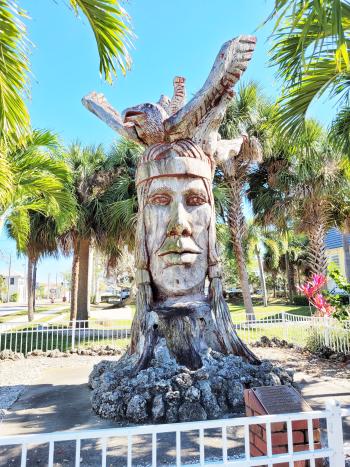 One of the first sites visitors crossing the southbound US41 bridge into Punta Gorda will see is a large statue of a Native American head sitting in a fenced area in front of a yellow house (the historic A.C. Freeman House).
This is Calostimucu, one of artist Peter Toth's "Trail of Whispering Giants" series. Over the course of a 21-year odyssey across America, Toth created 67 of these giant sculptures. There is at least one in each state (Florida has three). The Punta Gorda sculpture, which has the face of a brave on one side and that of a maiden on the other, is, according to the artist, "…not just to honor Native Americans; it's to represent all people who have suffered injustices."
 
7. The Spirit of Punta Gorda
At the northern-most corner of Laishley Park, right on the water, is a sculpture created as a testament to the resilience of the people of the area. The piece depicts two palm trees, one bent as if in a strong wind and the other standing tall. A sundial at the base permanently reflects 4:27 pm, the time that Hurricane Charley arrived in Punta Gorda on August 13, 2004.
 
8. Ponce the Explorer
Juan Ponce de Leon may have been pretty short physically, but he's big around these parts. Legend holds that Punta Gorda was where he was shot with the Calusa arrow which caused his later death in Cuba.
There are several statues of the explorer at two local parks, Gilchrist Park and his namesake space, Ponce de Leon Park. In fact, Ponce Park boasts two colorful representations which make for fun selfies. He's also depicted in "The Conquistadors," an historical mural on the front wall of Dean's South of the Border, a local institution in itself, in downtown Punta Gorda.
 
9. Uncommon Boat Tour
The number of people who have cruised on a floating tiki bar is very small. You can be one of the few with a Cruisin' Tikis boat trip, a fun and exciting way to get out on the water.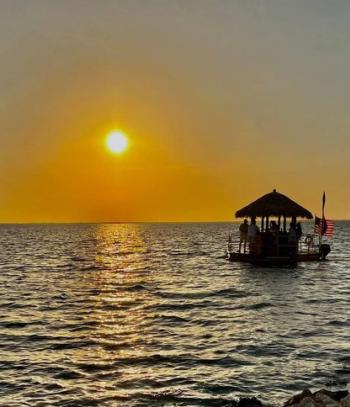 They launch from the dock at TT's Tiki Bar and can accommodate up to six people. Advance reservations are required. Relax on a 90-minute private trip (for up to 6 people) or luxuriate on a 2-hour sunset cruise. You're encouraged to bring your own food and libations to enjoy while you cruise. They provide a cooler of ice.
 
10. Unique Nature - Smalltooth Sawfish
Charlotte Harbor is one of the few places in Florida where smalltooth sawfish live year-round. This fascinating species vaguely looks—and definitely swims—like a shark, but they are a type of ray, in that their gill slits are on the underside of their bodies. The sawfish is protected, so if you accidentally catch one, it must be immediately released. You're also encouraged to report any encounters with a sawfish to the Florida Wildlife Council (FWC) Fish and Wildlife Research Institute.

Punta Gorda is a beautiful little city with tons of charm, in part due to these whimsical and soulful attractions. Come experience them for yourself for a trip you'll never forget.