If you enjoy being on the water, on the trails, and on the beach, or if you're looking for a vacation that is as unique as you are, you're an Outsider. And in Punta Gorda/Englewood Beach we say, "Outsiders Welcome." And we mean all Outsiders, big and small. Because here, we believe Our Best Side is Outside, and our incredible outdoor experiences set the stage for fun for the whole family. Outsiders come in all shapes and sizes, and they're all welcome here, so, check out these BIG Adventures for your little Outsiders.
 
Feel the Learn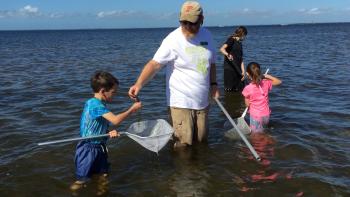 Being an Outsider means more than just catching some sun, riding the waves, or getting some dirt under your fingernails. It means learning about and respecting our natural environment. For the ultimate mix of outdoor fun and education, check out the Charlotte Harbor Environmental Center (CHEC) at Cedar Point. Opened in 1987, CHEC provides family-friendly environmental education and sustainable recreation opportunities. Their wading tours at Cedar Point Environmental Park in Englewood are a family favorite, where parents and children delight in discovering what plants and small animals are thriving just beneath the water's surface.
 
Real "Off-Road" Trails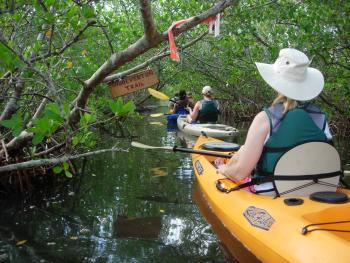 For a big adventure even the littlest Outsiders can enjoy, explore the expansive Charlotte Harbor, the second-largest marine estuary in the state of Florida, via the Charlotte County Blueway Trails.
Stretching along hundreds of miles of undeveloped shorelines, consult the Blueway Trails Guide for details on each of the 57 trails, including information on ease of access, difficulty, and scenic value.
Once in the water, colored trail markers are nestled in the mangroves to keep you on the path. Keep a look out for native wildlife: outsider families are likely to see manatees, dolphins, birds, and fish jumping out of the water.
 
Little Outsiders Make Big Waves
Take a Virtual Tour of the King Fisher Fleet boat, The Helen M
Outsiders big and small will love exploring Punta Gorda/Englewood Beach by boat. For the ultimate in relaxing on-the-water exploration, try a sailing cruise, sightseeing or eco tour, fishing trip, or sunset cruise. 
King Fisher Fleet, based out of Fishermen's Village, hosts some of the area's best cruises and tours. Or, take a more personalized tour with Riding The Waves, located in Cape Haze Marina, which offers one-of-a-kind sunset and eco tours on 2-person catamarans.
If you're looking for a more up close and personal experience at a bit of a slower pace, try Glass Bottom Rentals, Paddle Me Happy, and SUP Englewood for a variety of options, including lessons, eco-tours, and kayak, canoe, and SUP rentals. 
If there are six or fewer of you, you can even tour the harbor and chase the sunset on a floating tiki bar!
 
Outside Memories
No matter how you enjoy our beautiful Florida outdoors, the important thing is you're creating happy memories that will last a lifetime. If you're the type of family that would rather spend their vacation on the beach, on the water, or on the trail, you'll have a wonderful time, outside, in Punta Gorda/Englewood Beach.