Gulf of Mexico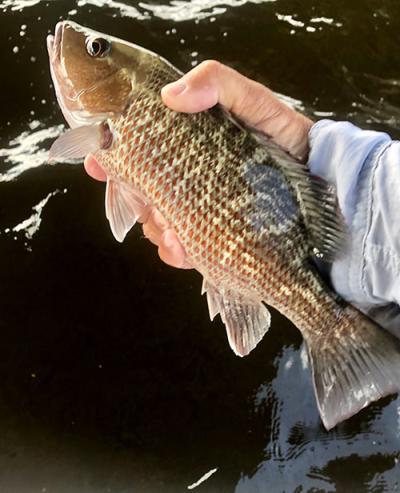 Much of the offshore attention this month will be on bottom fish as anglers take advantage of the simultaneous open seasons for gag and red grouper and amberjack. Gag reports haven't been great this summer but fishermen have been picking a few on ledges in 75 feet of water or deeper. Red grouper catches on flat rock starting in about 65 feet have been much more consistent, and catches of lane snapper, vermilion snapper and porgys have been good in those same areas. Wrecks and artificial reefs in as little as 30 feet of water and on out to 90 feet are holding permit, mangrove snapper, barracudas, and Goliath grouper. The Goliaths on some of these structures are getting so big that they are nearly impossible to handle on conventional fishing gear. Amberjack are on wrecks and artificial reefs starting in about 70 feet of water and deeper, and are stacked up pretty good since the season has been closed for a few months.
Charlotte Harbor
August is time for "Black water" tarpon fishing in the dark waters of central Charlotte Harbor. The water there is ten to twenty feet deep and the fish are in the 60 to 125 pound range. Free-lined threadfins, scaled sardines, or crabs are the most popular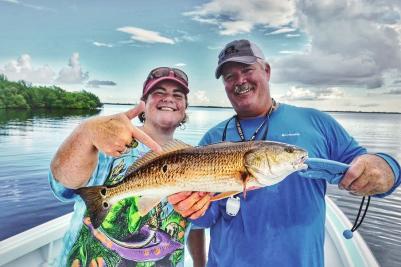 baits, but pinfish, catfish and ladyfish will tempt these tarpon too. Be prepared to deal with the pesky sailcats which have an amazing ability to take your live bait just as you're getting into a good wad of tarpon.
August is also a good month for smaller "canal-sized" tarpon of 5 to 20 pounds, which spend the summer in many of the local residential canals and boat basins. Catch-and-release snook fishing has been very good, and a few more redfish are showing now as well. Trout season opened in Charlotte Harbor this spring after a closure of nearly three years and trout fishing has been pretty good. Just about every structure in the harbor is now home to eating-sized mangrove snapper and all that's needed is a light tackle rig and either a few dozen live shrimp or some small live shiners or small pinfish. In Charlotte Harbor (state controlled waters) the minimum size limit on mangrove snapper is only 10 inches and with this small size limit it's fairly easy to catch the makings of a fish fry.