We do love our beaches, but sometimes you want to shake things up a bit. Here are some fun and family-friendly ways to take a break from the beach. You may miss sand and surf, but just think how lovely the reunion will be!
 
This 90-minute buggy tour through a working cattle ranch and Telegraph Swamp is both entertaining and informative. Wildlife sightings vary and can include white-tailed deer, Osceola turkeys, wild boar, birds of all feathers (as it were), alligators, and the resident cracker cattle. Photographers from professionals to hobbyists will find inspiration on the Photography Tours, and the Sounds of the Night tours offer another level of fascination.
 
Snack, Shop, and Enjoy
Every Thursday from October through May (except for Thanksgiving Day), the Olde Englewood Village Farmer's Market wows the crowds with an amazing array of fresh produce, gourmet baked goods, and more delicious treats.
The Saturday morning Punta Gorda Farmer's Market features many amazing vendors offering everything from fresh produce and bakery items to plants, art, jewelry and accessories, and so very much more! Open 8 am–1 pm October through April, and 8 am to noon May through September. Weekly live music makes the entire experience even more fun.
On Sundays, don't miss the Punta Gorda History Park Market. Vendors present everything from art and collectibles to clothing, dog treats and accessories, and fresh produce. They also feature live music and a warm, community atmosphere.

Learn About the Past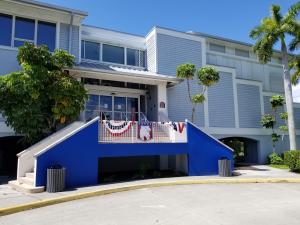 The extraordinary Military Heritage Museum provides a comprehensive history tour from the Revolutionary War through modern conflicts, across all five military branches. Their purpose is to honor all who serve. The Museum features thirty-thousand-plus artifacts, veterans serving as museum guides, flight and ship simulators, virtual reality experiences, thousands of infographics, live performances, and audiovisual displays. This is a educational, entertaining, and unique family-friendly experience.
 
Break Out!
To step away from regular "tourist-y" stuff, give one of our escape rooms a try! Our area boasts two escape rooms: Escape Port Charlotte, and Escape Rooms Unlocked in Punta Gorda. They each have many different options when it comes to different adventures, rooms, group sizes, and times to solve, so there's no way to get bored!
 
Experience Artful Nature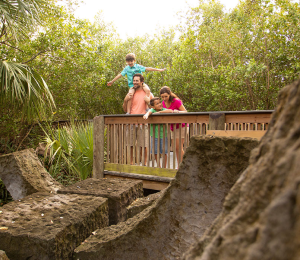 Whether you discover on your own or book a guided tour, the whole family will be fascinated by the world-class art and incredible nature on display at Peace River Botanical & Sculpture Gardens. Create some wonderful memories, take some amazing photos, explore the butterfly house, and be sure to feed the koi.
 
Create Your Own Souvenirs
There's not a thing wrong with a regular souvenir but if you're looking for something more personal—as in, you create it yourself!—there are several great options in the area.
Sheryl's Shell Shop in Englewood is the place to find all things shell and create a piece of resin art. Even better if you picked up a special seashell or shark tooth from the beach to incorporate.

Old Florida Outdoor Center also offers weekly painting classes, often featuring classic Florida subjects like mermaids and sea life.
There's more to do in Punta Gorda/Englewood Beach than can be covered here, but we hope this short list of things to do away from the beach inspires you to get out and explore this amazing area! Find more-more-more on the Things To Do and Events pages.
 
Explore the First Solar-Powered City in the U.S.
Down the road from Babcock Ranch Eco-Tours is America's first solar-powered town, Babcock Ranch. The town's solar panel field contains 343,000 panels! There's plenty to do, with five miles of hiking and biking trails, kayak rentals, a dog park, fresh water fishing and electric boat rides on Lake Babcock, and restaurants and sweet shops.
Note: it's always a good idea to call in advance to be sure businesses are open.