We do love our beaches, but sometimes you want to shake things up a bit. Here are 7 fun ways to take a break from the beach:
 
1. Take a Rum Tasting Tour
Alligator Bay Distillers is a local treasure producing award-wining craft rum. They hand-craft small batches of White, Dark, Spiced, Sun Gold, and Saba Treasure rums, using only Florida molasses. Book a free tour and tasting then shop their retail space and grab a bottle or two for those not lucky enough to be with you on your travels!
 
2. Work on Your Golf Game
Golf is always a rewarding way to spend some time and with 15+ beautiful courses in our area, you're sure to find one (or five) you love.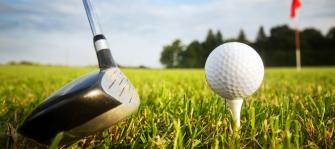 When you're pressed for time, the weather is not cooperating, or you just want to work on your game in a relaxed, friendly, and air conditioned, environment, head to Go4Golf. They offer simulations of the greatest courses in the world, so you'll never run out of challenges. They also offer snacks and refreshments.

3. Enjoy Dinner and a Show
Visani Italian Steakhouse and Comedy Theater features live standup shows from huge comedy names like Shawn Wayans, Jamie Kennedy, Jon Lovitz, and more. You can also catch nationally-known music acts paying tribute to everyone from Elvis to Journey. Stop by to dive-in to their authentically Italian menu, or opt for dinner and show to make it an even more satisfying night.
 
4. Take a Guided Tour of the Night Sky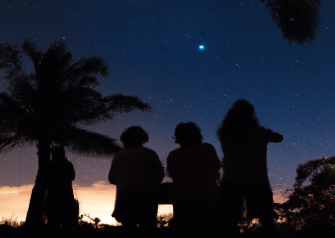 Venture out after dark to enjoy a fascinating guided tour of the stars with Starry Night Florida.
This unique attraction, just about 10 minutes from Punta Gorda, offers the opportunity to view celestial bodies through a high-powered telescope while hearing interesting and fun stories about them. Kids of at least 6 years old are welcome. They provide mosquito jackets, binoculars to use, and refreshments.
5. Sail Away
Taking a break from the beach doesn't mean you can't still get out on the water, and one of the most unique ways to do that is to go sailing! There's nothing like the freedom of gliding along the water with no sound but the wind in the sails. The gorgeous waters of Punta Gorda/Englewood Beach await!  
6.  Go Treasure Hunting
With markets on Saturdays and Sundays in Punta Gorda and on Thursdays (October through May) in Englewood, it's safe to say that we love Farmer's Markets around here!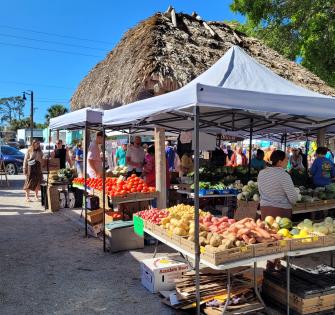 Venture out to find everything from fresh food and gourmet pet treats to the freshest produce to art and antiques (and so much more) while enjoying friendly atmospheres and usually, live music.
7. Pamper Yourself
Whether you're looking for a full day of indulgence, a procedure or mani-pedi, a vacation refresher, or even a dedicated staff to beautify an entire bridal party, you'll find a the perfect spa or salon in Punta Gorda/Englewood Beach. You're on vacation, after all—there's no better time to spoil yourself a bit!
Going to the beach is amazing, of course, but there are plenty of other attractions and activities across our area. If you miss the sand and surf, just think how lovely the reunion will be!