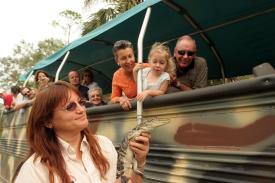 We do love our beaches, but sometimes you want to shake things up a bit. Here are some fun ways to take a break from the beach. You may miss it, but just think how lovely your reunion will be!
Experience Real Florida with Babcock Ranch Eco Tours
This 90-minute buggy tour through a working cattle ranch and Telegraph Swamp is both entertaining and informative. Wildlife sightings vary and can include white-tailed deer, Osceola turkeys, wild boar, birds of all feathers (as it were), alligators, and the resident cracker cattle. Photographers from professionals to hobbyists will find inspiration on the Photography Tours, and the Sounds of the Night tours offer another level of fascination.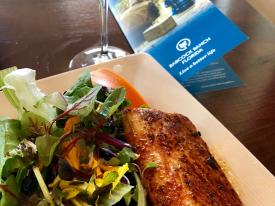 Explore the First Solar-Powered City in the U.S.
Down the road is America's first solar-powered town, Babcock Ranch. The buggy tour at Babcock Ranch Eco Tours takes you past the town's solar panel field containing 343,000 panels! There's plenty to do, with five miles of hiking and biking trails, kayak rentals, a dog park, fresh water fishing and electric boat rides on Lake Babcock, and self-guided tours of the model homes (a destination in themselves!). Dine at Table & Tap for fresh farm-to-table fare and enjoy a scoop (or two) of ice cream from Square Scoops. Begin your visit at the Discovery Center at Woodlea Hall in Founder's Square.

Learn About the Past
Punta Gorda/Englewood Beach is home to several museums that tell the story of our area in unique ways. Take an info-tainment journey through the history of Southwest Florida, Charlotte County, Punta Gorda, and Englewood at: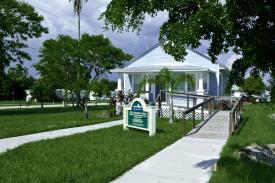 Take a Walk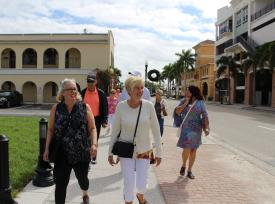 SW Florida Walking Tours offers food tours--including the Big Breakfast and the Long Lunch, ghost story and history tours, garden tours, Victorian Seances, and more. There's no better way to taste-test some of our great restaurants (and walk off the calories), while experiencing the charm of Punta Gorda!  
Shop. Dine. Get Your Art On. Catch a Movie.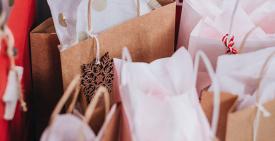 The Port Charlotte Town Center is home to Dillard's, Macy's, Beall's (The Florida Store), and so much more!. Shop to your heart's content, then take a selfie at the Manatee Fountain, peruse stellar art work at the Charlotte Arts Gallery, catch a flick, then grab a bite! It's the perfect place for a climate-controlled afternoon.
Break Out!
To step away from regular "tourist-y" stuff, give one of our escape rooms a try! Our area boasts two escape rooms: Escape Port Charlotte, and Escape Rooms Unlocked in Punta Gorda. They each have many different options when it comes to different adventures, rooms, group sizes, and times to solve, so there's no way to get bored!
Create Your Own Souvenir
There's not a thing wrong with a mass-produced souvenir but if you're looking for something more personal—as in, you create it yourself!—there are several great options in the area.
There's more to do in Punta Gorda/Englewood Beach than can be covered here, but we hope this short list of things to do away from the beach in Charlotte County inspires you to get out and explore this amazing area! Find more-more-more in the things to do and events sections of our website.
Also, before heading out to any of these businesses, check with them regarding hours of operation.
For resources to determine beach conditions, visit oursafetravel.com.
Updated 1/6/2021