Island Hopping
Explore 200 miles of Blueway Trails in Charlotte Harbor & the Gulf Islands
Island Hopping in the Charlotte Harbor Area 

by Terry Tomalin

In Charlotte Harbor & the Gulf Islands, a sea kayak, fishing boat or ferry is your ticket to a pristine, sun-soaked paradise. The island-studded waters of Florida's second largest estuary, Charlotte Harbor, are perfect for coastal cruising and fishing. Of course, you'll want to stop and explore the area's barrier islands to enjoy uncrowded beaches and out-island experiences like no other.

You'll find that these Southwest Florida islands have a character all their own. Influenced by sub-tropic weather and almost year-round sunshine, the islands are warm, inviting and pristine. Wildlife far outnumbers the human population here, so you can immerse yourself in a secluded island and experience relaxation of the purest kind. The islands are bordered by 12 miles of serene, silky sand beaches. And they're surrounded by some 129 square miles of sparkling waters and aquatic preserves.

The waters of Charlotte Harbor & the Gulf Islands are among the most prolific, which is why boaters and anglers are drawn to the area like fish to bait. Here, you sink your line into one of the most diverse fisheries in the country, reeling in snook, redfish, barracuda, cobia, grouper, tarpon and more. The waterways are expansive, whether you're back bay fishing in the shallows or deep sea fishing in the Gulf of Mexico. You can hire a guide or go it alone – either way, you'll learn why Charlotte Harbor & the Gulf Islands is one of the world's top sport fishing destinations.

The area is also popular for sea kayaking, which is ideal for a peaceful exploration of the islands. Gliding along the water, this quiet form of cruising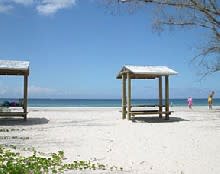 Stump Pass Beach State Park has full facilities, a hiking trail and plenty of wildlife
allows you to get up close to nature, coasting up to wading birds or floating near a pod of dolphins.

If you kayak north out of the small Gulf Coast community of Placida, you'll come upon picturesque Don Pedro Island State Park, a 225-acre park flanked by the Intracoastal Waterway and the Gulf of Mexico. Don Pedro, located between Palm Island and Little Gasparilla Island, is one of four properties in the Barrier Island Geo Park System.

Accessible only by boat, this seemingly untouched island has more than a mile-long stretch of white-sand beach perfect for collecting seashells, fishing or soaking up the sun. Go for a swim in the surrounding waters, which are home to dolphin and manatee. Other creatures you might see on this wildlife-rich island are rare shorebirds and bald eagles.

Park amenities include restrooms, a picnic area with tables and grills, and dune boardwalks. Last year, the park also opened a 90-acre recreation area with hiking trails.

Also new is a passenger ferry service, operated by Grande Tours. The ferry makes roundtrips to Don Pedro Island from Placida (reservations are recommended; call 941-697-8825 for departure days.) The narrative tour during the 35-minute boat ride features area history and puts you in an island frame of mind before you ever set foot in the park.

If you're coming by kayak, the route is well marked, but boaters should use caution due to the shallow depths. Access to Don Pedro's dock is available via a 2.5-foot-deep cut south of the Cape Haze Power Line Crossing, Channel Marker #35. The Waterproof Nautical Chart #25 will prove useful to both kayakers and boaters.

From Don Pedro, it's just a short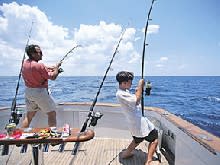 Fish from a boat or from the shore of one of Charlotte Harbor's pristine Gulf islands
paddle north up the Intracoastal Waterway or along the beach to another jewel of the Florida Park system, Stump Pass Beach State Park. Located on the southern tip of Manasota Key, this full-facility park has a hiking trail that traverses five natural communities, where an adventurous soul may catch a glimpse of the secretive Florida gopher tortoise.

Birders strolling the shoreline can add a variety of waders and terns to their lists, or look up and spot a majestic frigate bird soaring above. Storms wash up fossilized shark teeth, and sunsets are spectacular, too. It's no surprise that this park ranks tenth in terms of Florida state park visitation.

Another state park worth seeing in this chain of Gulf islands is Charlotte Harbor Preserve State Park. The park has no restrooms or picnic tables, but the 80 miles of pristine shoreline found within its borders has long been a favorite for kayak fishermen and birdwatchers.

Englewood Beach on Manasota Key is still remote enough to attract abundant wildlife, but this popular beach is accessible by car. Facilities include pavilions, barbecue grills, a playground, volleyball courts and restrooms, and its shores are perfect for surfcasting.

When you work up an appetite, satisfy it at one of many nearby restaurants. The Fishery Restaurant in Placida offers fresh seafood in a casual, waterfront setting. Fishermen's Village in Punta Gorda offers waterfront dining with an array of choices, from Italian to fresh seafood and steaks. On Palm Island, only accessible by boat, the Rum Bay Restaurant is a flavorful retreat with barbecue specialties. Enjoy the laid back, island atmosphere as you take in beautiful water views and cuisine ranging from burgers to fine seafood.