Event and Conference Center
The 43,500 square foot Charlotte Harbor Event and Conference Center offers state-of-the-art technology, professional management, flexible multi-purpose spaces, top food service management, and waterfront vistas at all affordable rates. The center's largest event space measures nearly 20,000 square-feet and has served as the site for many sporting events including boxing, martial arts, gymnastics, cheerleading, and trampoline and tumbling.
Opened in 2009, this multi-purpose facility has served as host to multiple sporting events including Golden Gloves Boxing, AAU Gymnastics, USA Gymnastics, and ATA Taekwondo.
Surrounded by 3 hotels with over 350 quality hotel rooms at reasonable rates, the facility is also a very short walk to dozens of restaurants, shops, and entertainment venues.
Rental rates and AV fees are very affordable.  Contact the VCB to inquire about eligibility requirements for a rental fee subsidy.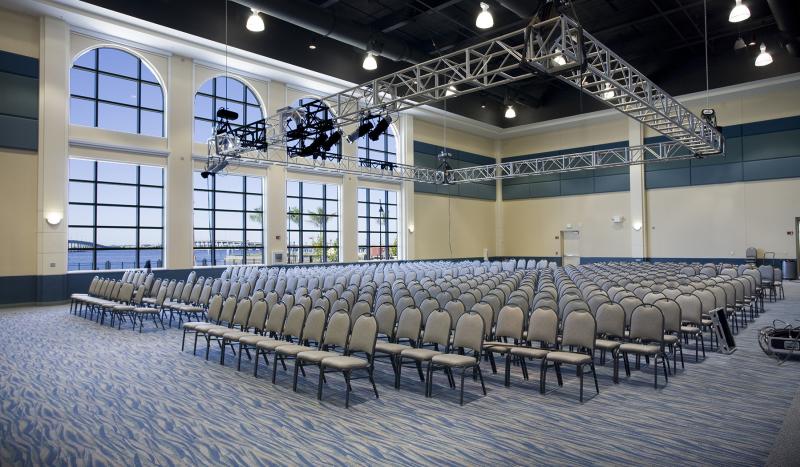 Key Stats
Total sq. ft. of event space: 44,000
 
Main hall:  20,000 sq. ft.
(can be divided into equal thirds)
 
Meeting rooms: 4 (900 sq. ft. each)
 
Dressing rooms:  2 large, 2 small
 
AV:  state of the art equipment available on site
 
Seating: Up to 2,200 depending on configuration
 
Concessions:  1 permanent stand with flexibility for additional portables throughout
 
Catering:  in-house caterer, Savor, available to service any food & beverage functions
 
Box office:  2 windows
 
Complimentary WiFi throughout
 
Parking:  250 free spaces on site
 
www.CharlotteHarborECC.com