2020-2021 Very Important Visitor Card (ViV)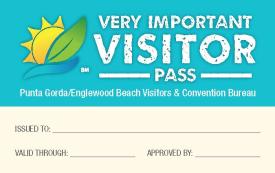 The Punta Gorda/Englewood Beach Visitor & Convention Bureau (PGEBVCB) invites area attractions and organizations to participate in the inaugural PGEBVCB VIV Card for FY 2021. The program will begin Jan. 1, 2021. The Card will be given to visitors of influence such as members of the media, social media influencers, meeting planners, travel agents, sporting event planners, and other influential members of the travel and tourism industry. It will permit the Cardholder to receive free admission for one (1) to the participating attractions and events while visiting Charlotte County.
Similar cards are used by other destinations within and outside of Florida with success. These cards enhance and offer flexibility to the VIV's visit. Benefits of participating varies depending on the organization and may include published content in print and online, photography, listings in print and online travel guides, and meetings and group bookings.
Participation criteria in the 2021 VIV Card are:
Located within Charlotte County
Provide free admission for one per VIV Card
Must honor for entire participation period of Jan. 1, 2021 – Sept. 30, 2021.
Black-out dates for the use of the Card may apply.
PGEBVCB will:
List all participating organizations on the Official VIV Card
VIV Card will only be issued by PGEBVCB staff to vetted travel writers, social media influencers, tour operators, travel agents, meeting planners, and sport event planners.
VIV Card will only be valid for specific dates of the VIV's visit, as authorized by PGEBVCB staff or Aqua Marketing & Communications, the VCB's public relations agency of record.
When a VIV Card is issued, an email notification will be distributed with the holder's name and outlet. Additional contact information will be shared when not in conflict with GDPR or other privacy laws.
A list of organizations participating in the VIV Card program will be shared with all participants following receipt of the signed agreement by the deadline. The agreement will be up for renewal for FY 2022 which begins Oct. 1, 2021. PGEBVCB holds the right to determine if partner offers are appropriate for the VIV Card.
To confirm commitment to the VIV Card program, PGEBVB requests each of the participating organization's Owner, Executive Director, or designated representative print, sign, and return this agreement to PGEBVCB by Nov. 16, 2020, via email to jennifer.huber@charlottecountyfl.gov or regular mail to 1700 Tamiami Trail, Suite G-2, Port Charlotte, FL 33948 
Thank you for your participation and we look forward to helping your organization gain exposure through our Very Important Visitors.