Outsider: Terry Covert
Tour Guide at Babcock Ranch Eco-Tours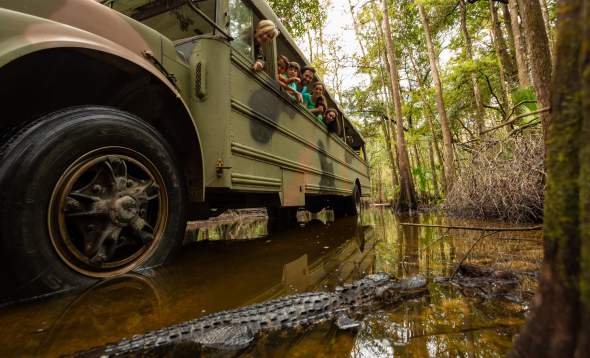 Punta Gorda/Englewood Beach is a destination combining a rich history with breathtaking outside landscapes and activities. Few know more about the area's past and its beautiful outdoors than Terry Covert. As a guide for Babcock Ranch Eco-Tours, Terry loves passing on her knowledge about where Punta Gorda/Englewood Beach came from, and what sort of wildlife, plant life, and outside adventures visitors can expect to find in the area. We got the chance to speak with Terry as she prepared for a full day of tours through the tree-lined trails of the original Babcock Ranch, to find what it is that makes her a lover of all things outside.
What can someone expect from Babcock Ranch Eco-Tours?
When someone takes a tour with us, they can expect to see Florida in its natural state. They'll see some of the area's best wildlife and ecosystems all intact and untouched. We drive buggies, which are converted school busses, through winding trails on the Babcock Ranch property. We're traveling some of the same roads that pioneers traveled, and history is just as important to us as the natural surroundings. Visitors get a first-hand look at our beautiful outdoor environment, and get to learn a little something about the area's history. Also, before they even step foot on the buggies, guests can see and touch some snakes native to the area, and see some beautiful birds up close that we house onsite. Plus, they can explore our gift shop. On the buggies, we bring a baby alligator with us for the guests to see up close while we're looking at full-grown alligators in the surrounding swamps. The baby gator is really to give the kids on our tours a chance to touch a real-life alligator, but sometimes I think their parents are more interested. [laughs]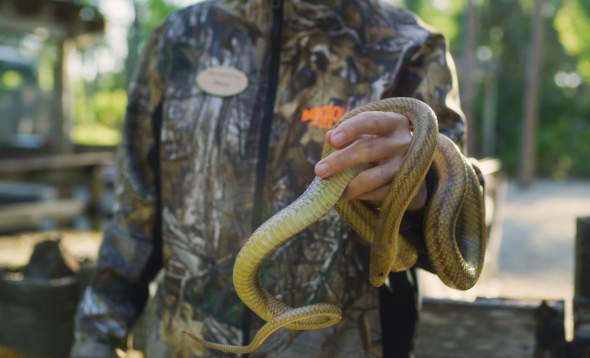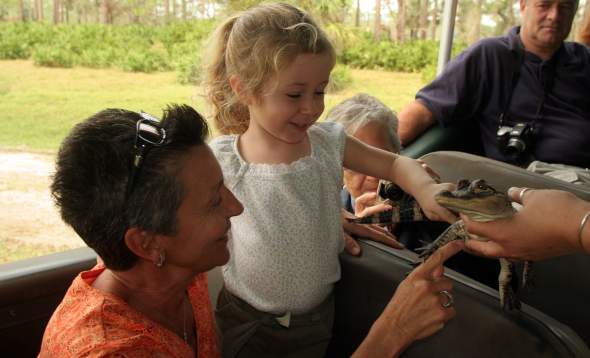 Can you tell us about how you became a guide here?
Well, I first came to Babcock Ranch in 1985. My husband and I were living in Lancaster, New York, and his parents lived in Punta Gorda. We came to visit them, and my father in-law suggested we check out these wildlife tours. It was great! We loved it, our son loved it, and it is something we remembered for years. Eventually, we moved from New York to Punta Gorda because we just absolutely loved the weather and outside activities here. In 2007 I saw that Babcock Ranch Eco-Tours was hiring for their gift shop. I remembered how much I loved visiting it years ago, so I applied and got the job. I started out in the gift shop, eventually got moved up to tour guide, and here I am 12+ years later still loving everything this place has to offer.
What was it like going from the gift shop to driving a bus through winding trails while giving a tour?
It took some getting used to, that's for sure. I was nervous at first, it's quite a lot of responsibility. Guides have to drive the buggies, they have to talk about the wildlife, the plants, and of course the history of the area, and they need to make sure everyone has a good time and goes home happy. But, I stepped up and found my own style and have loved every second of it.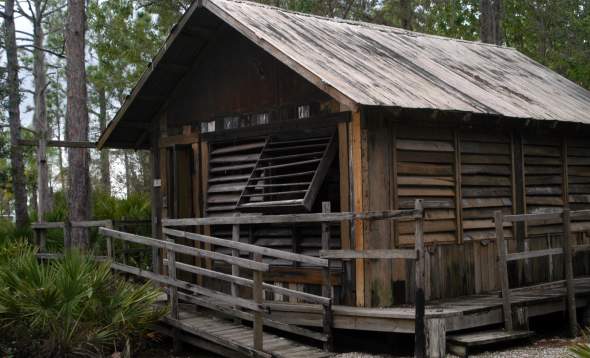 What do you mean you found your own style?
All the tour guides here are free to give their tours however they want. Of course, there's certain plants, animals, and key facts we all want to point out. But, for the most part we're each providing our own experience while on tour. That's why you can come back again and again and learn something new from each tour guide. For me, it's the history of the area. That's what I love about Punta Gorda/Englewood Beach. The history found here is classic Old Florida. And Babcock Ranch has a lot of historical significance because of the Babcock family's contributions to the development of the area. So there's a lot to talk about. Some guides focus more on nature or animals, but for me it's history.
I'm sure you have a lot, but what's one of your favorite memories you can share with us?
I do have a lot. There's so many times seeing a child's face light up with wonder, or watching parents bond with their children, that it's hard to pick one. But, a little over a year ago I was giving a tour. We come up to this little bridge on the trail that we call Gator Bridge because it goes over the water and is surrounded by alligators. Well, we're going over and we stop, like always, to look at the hundreds of gators there. And for the first time ever I see just about every single bull gator [male mating alligators] raise its head into the air and start bellowing this low, throaty sound. It was the most incredible, if not a little intimidating, thing ever. The whole buggy was silent just watching and listening to these powerful animals belt out their mating calls. That was something I'll never forget.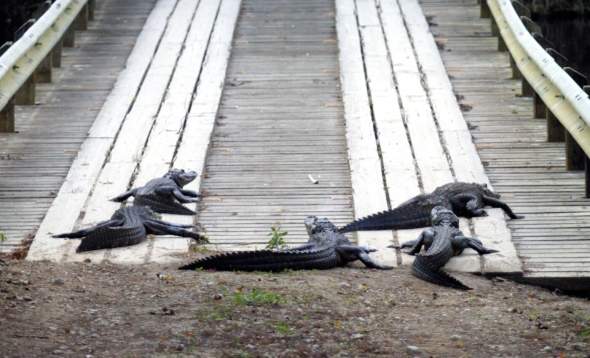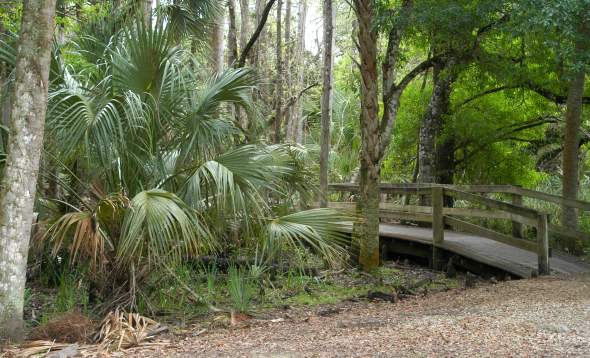 So, what do you like to do when you're not giving tours?
I still love to be surrounded by nature. I like to go on hikes, walk the different trails found throughout the area, and visit places like Peace River Wildlife Center where they rehabilitate native wildlife.
Our thanks to Terry Covert for taking time to speak with us before starting her tours at Babcock Ranch Eco-Tours. Falling in love with our outside activities isn't unusual, but finding a passion for the area's rich, eco-friendly history might just make Terry an Outsider. Maybe you're an Outsider too. If so, we hope you're inspired to learn more about Punta Gorda/Englewood Beach, where we say, "Outsiders Welcome."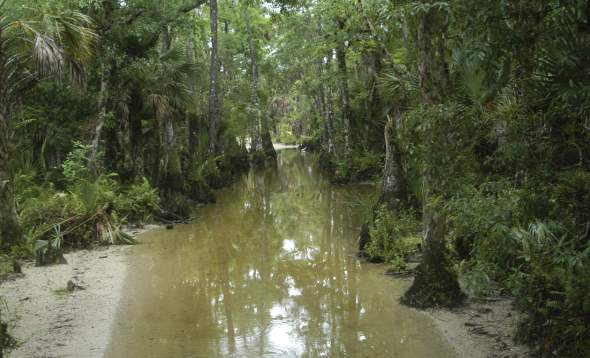 Start Planning