Outsider: Mark Timchula
"The Beach Guy" of Englewood Beach
Going to the beach is the ultimate in Florida outdoor experiences. For an easier way to enjoy the perfect beach day, find The Beach Guy, who rents out chairs and umbrellas for next to nothing. His real name is Mark Timchula, but no one knows the Mark Timchula from Maryland. However, everyone, and we mean everyone, knows The Beach Guy of Englewood Beach. On any clear, sunny day, you can find him at Englewood Beach, renting chairs, spiking umbrellas into the sand, and helping everyone make their day at the beach…a day at the beach.
So, your name is The Beach Guy. Is that a family name?
[laughs] That'd be something, huh? My real name is Mark Timchula. But, honestly, you can call me The Beach Guy. Everyone else does. Now it's on t-shirts, the umbrellas, the chairs, and I even have it on my license plate.
Obviously, the name comes from the fact that you work at the beach, but how did it start?
Well, when I started it was just me. The county wanted someone to rent chairs and umbrellas to people, and I thought, "hey that sounds like fun." And it is, but it's also a lot of work. Anyway, so starting out was just me. I'd be running all over the beach, moving umbrellas, digging holes, dragging chairs. All that stuff. If someone wanted me, they didn't know my name, so they'd just yell, "hey Beach Guy!" And, well, after a while that's what everyone started calling me. I was really the only one out here doing this, and Beach Guy is easier to remember for visitors than Mark Timchula. Seven years later, the name is pretty much set in stone. Now we have the branding, the t-shirts, and I even have employees that wear the shirts so that people know they're with me and they can ask them for help. So, it's become more than just a name for me, but a name for the business.
Now, how does someone become a Beach Guy? Was this the childhood dream?
Honestly, believe it or not, yeah it was. I grew up in Maryland, and when we were kids our family would go to Ocean City, Maryland to visit the beach. There, they have people doing exactly what I'm doing now. Renting chairs and umbrellas, and really just making sure anyone visiting can have the best time possible. I saw that as a kid and thought, man wouldn't that be something? Working outside, having fun, doing things your own way. It seemed perfect.
How does a kid from Maryland end up as the Beach Guy at Englewood Beach?
Well, I didn't become The Beach Guy right off the bat. I was a mechanic for years in Maryland. But, eventually I had this neighbor and he had a property in Punta Gorda. So, I visited the area and I was hooked. Maryland's great and all, but it's cold a lot of the time. After visiting Punta Gorda/Englewood Beach I made the decision to move, and now two of my kids have moved down here as well and they love it too.
What is it about Punta Gorda/Englewood Beach that you like?
Well, obviously the weather. It's sunny, it's warm, the skies are clear, and you can spend pretty much every single day outside. Everything is still pretty natural. There aren't high-rises and big shopping centers all over the place. A lot of the land is still pristine, untouched, and natural, and we like it like that. Most of all it's the feeling you get in Punta Gorda/Englewood Beach. It's laid back, it's quiet, the people aren't a big rush to get anywhere, they're friendly, and it just feels like the way Florida used to be. It's all about relaxing and enjoying the outside. And now I get to do that for a living, so I'm really living the dream.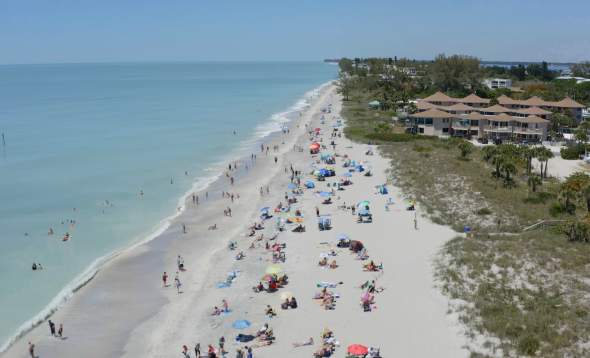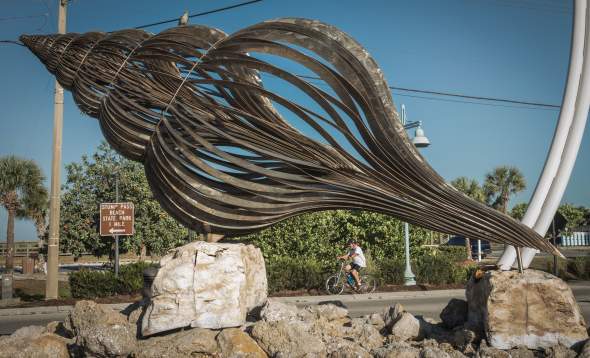 What is it about being the Beach Guy that you like the most?
Oh that's easy. It's the people. Englewood Beach is the place to see if you're visiting the area. We got a lot of nice restaurants, and plenty of other places to see, but the beach is where it is at, man. So, I get to meet almost anyone coming through the area. They see me, they rent umbrellas and chairs, and I might be the first local they've met that actual has a conversation with them. They come back the next day to go back to the beach, here I am. They come back next year, here I am. After a while we build a friendship, and then when they come back they even go out of their way to see me.* Now, I have people who visit the area every year from around the world, and they stay with me and my family at my house. I've made friends with people from countries I've never been to because I'm The Beach Guy. They call me from their homes just to say hey. I just had someone call me from Norway the other day, it was like two in the morning here, but I appreciate it.
*This might sound hard to believe, but during our interview at Englewood Beach, a couple actually pulled into the parking lot, left their car running, and came to say hello to The Beach Guy. They were on vacation from England, and wanted to just say hi before going on to their next activity.
Any advice to people visiting the area?
We have a lot to offer people looking for outside activities, but going to the beach is something you can't skip. Come to Englewood Beach and say hi. Even if you don't rent something from me, I'm always happy to talk to anyone visiting the area. Or check out one of the other beaches, the area is full of beautiful places to have some outside adventures.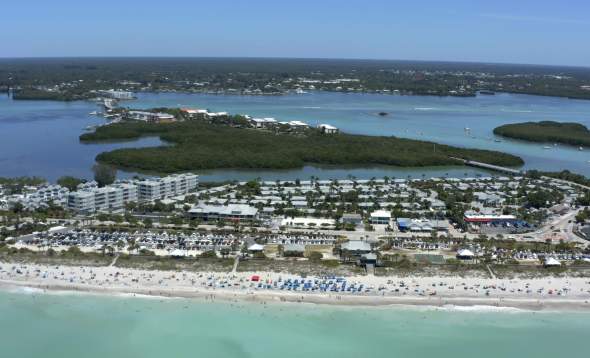 It was a pleasure meeting with The Beach Guy at his office…Englewood Beach. We hope you'll stop and say hello to him next time you head to the beach. When you look at someone like Mark Timchulla, who became better known as the Beach Guy because of his love for the beach, meeting new people, and doing things his own way, it's easy to see why he's an Outsider. Maybe you're an Outsider too? If so, we hope you're inspired to learn more about Punta Gorda/Englewood Beach, where we say, "Outsiders Welcome."
Start Planning