Outsider: Alex Voss
Alligator Bay Distillers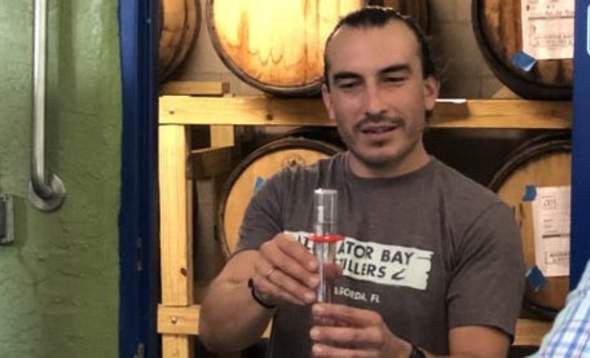 In Punta Gorda/Englewood Beach, we love our sunny days, clear skies, island beaches, and peaceful outdoor surroundings. Could it get any better than this? Yes, with a cool drink in hand. But don't reach for just any libation. Drink in the welcoming, local charm of Punta Gorda/Englewood Beach with a rum brewed right here. For that we turn to Alligator Bay Distillers in Punta Gorda. We talked to brew master and owner, Alex Voss, about why he and his brother chose Punta Gorda/Englewood Beach as the home for their brewery.
Alex, what is Alligator Bay Distillers?
We make small-batch, craft rum and whiskey from scratch. We're an award winning distiller for our rum, having won two gold medals back to back at the Miami Rum Festival for our chocolate rum. We wanted to pay homage to the community and state we're in, so we named ourselves after Alligator Bay here in Charlotte County, and all our molasses for our rum is sourced from Clewiston, Florida.
Why Florida molasses? Why not get it from somewhere else?
I grew up in Florida and when I came back home I knew I wanted to use local ingredients found in my "backyard" to make my rum. One of the reasons why we wanted to plant the distillery here in Punta Gorda is because of its proximity to the sugar mill.
You're from Florida, but you said you came back. Can you tell us a little about that?
I am a Floridian, from Naples, which is just to the south of here. But once I graduated college I moved to California and then to Hawaii. But, eventually I came home because I knew it's where I wanted to open the distillery.
How did you find yourself in this world of brewing and distilling?
It's strange because it was completely by accident. I didn't set out with the intention of becoming a distiller and opening my own operation. I was living in Hawaii, working with a friend on a construction job. After that job wrapped up I saw a posting on Craig's List for someone looking for help with a distillery. I needed a job, and took it on a whim. And, well, eight years later here I am with my own distillery using the same methods and recipes I was taught in Hawaii.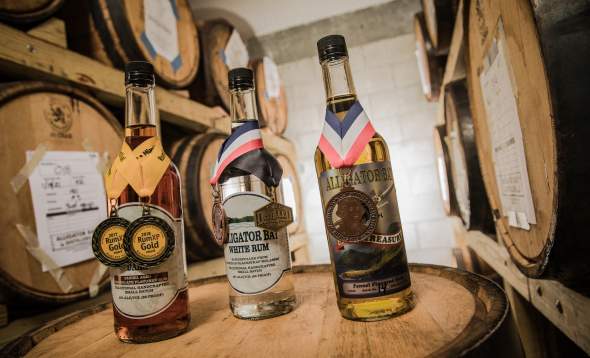 What is it about rum distilling that you like enough to make it your business?
Oh man…I think for me it's the chemistry involved in the process of distilling. The science behind what it takes to create a final product in bottle is what intrigued me.
Alligator Bay Distillers is unique because it's not just a production facility. People can visit you and tour the facility. What can someone expect on a tours?
I enjoy showing people how alcohol is made. In most cases, people have never seen what it takes to make a batch of beer or a bottle of rum, so we show them the process from scratch, almost giving them a hands-on experience with our production. The tour is very informative and people are always wide eyed and asking questions. You can see videos and shows about distilling that can give you an idea about what's happening, but seeing it first hand, being able to ask questions and get immediate feedback, gives people a better understanding of what they're consuming or have been consuming.
Any tours stand out to you?
I had a young family from Minnesota come in, and we had a great time on the tour. They mentioned they have a brewery, and so now even today we still stay in contact and discuss different techniques or new equipment on the market. Some of our visitors are people in the brewing or distilling business, and so we love getting the chance to pick each other's brains and learn more from one another. But we have plenty of locals or area visitors just stop by, and we're happy to impart whatever knowledge we can about alcohol and how to make it.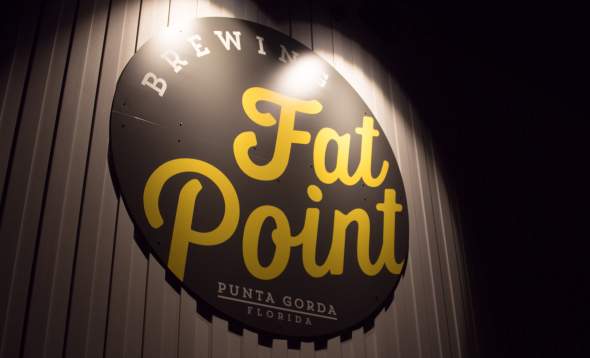 Speaking of other brewers and distillers, you're not the only ones in Punta Gorda/Englewood Beach. Are you working with other local brewers?
We love working with other people in the industry. By collaborating with local businesses brewing their own beer or alcohol, we're creating unique, one-of-a-kind products that can only be found here. For example, we've worked with both Fat Point Brewing and Peace River Beer Company. For Fat Point, which is right up the road, we gave them used wooden rum barrels to age their beer in, and they gave us the barrels back to age our rum in. This created a beer for them and rum for us that's unlike anything else either business could produce on their own
It was a pleasure talking with Alex and we thank him for his time. Alex could have chosen anywhere in the world to start his distillery, but he chose to open Alligator Bay Distillers in Punta Gorda/Englewood Beach so he could still enjoy the beautiful outside activities he loves, and that makes him an Outsider. Maybe you're an Outsider too? If so, we hope you're inspired to learn more about Punta Gorda/Englewood Beach, where we say, "Outsiders Welcome."
Start Planning