Visitor Guide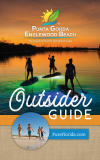 Fill out the information below to order your own guide, or click here to view our online guide.  It's new, it's collectible, and all of the cool kids have one.  
A couple years ago, we asked, "What is a visitor guide?" If all of the resource information, like lists of hotels, attractions, restaurants, etc. are online, what are we really telling people about the area?  
The "Adventure Journal" is a different approach to the traditional visitor guide.  There's still a map, resource lists and other things that you might expect, but we're confident you'll enjoy the story and first-person perspective that the journal brings.  
If you are a travel agent, meeting planner, etc. Please contact our office at (941) 743-1900 for bulk orders.