Video and Youtube
It's no secret that video is one of the most powerful marketing tools available. In the past ten years, online video has evolved to the point that there is nearly no visible line between the quality of broadcast and online streaming. In some cases, the quality of online streaming outweighs broadcast.
We encourage partners to feel free to link and/or embed the Visitor Bureau assets to their social media sites and websites.
Our Youtube Channel:
https://www.youtube.com/RealPureFlorida
To embed video into your website:
Simply find the video you wish to embed, and click the Share button beneath the video. This will present several options immediately below, one of which is "Embed" (see illustration below).  Copy and paste the code that is generated into your website as source code (or pass that code to the person who handles your website).  This can be done fairly easily through most major CMS (Content Managment Systems - such as Joomla, Drupal or Wordpress).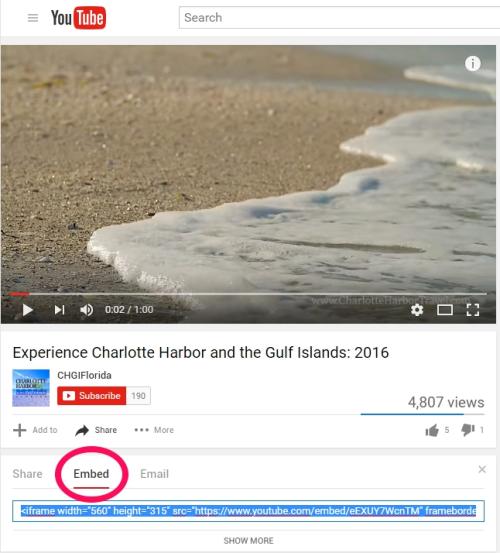 Options to modify:  Width and Height
A Typical embed code might look like this:
<iframe width="1280" height="720" src="https://www.youtube.com/embed/eEXUY7WcnTM" frameborder="0" allowfullscreen></iframe>
As most recent assets on our Youtube Channel are in High Definition (HD), you'll want to make sure that if you do adjust the size of the video, you keep the relationship between width and height at 16:9.  Example resolutions would be (1280x720) as shown above-- or (800x450), (450x225), etc. Keep in mind that the viewer can always opt to go full screen or click the YouTube icon to view the video on YouTube where they will have more control, so no worries if it's not perfect or big enough based on your current page layout.
Quick Links to Major Video Assets
Primary 1 Minute 2016 Destination Image Video: 
https://www.youtube.com/watch?v=eEXUY7WcnTM
Punta Gorda "Most Beautiful Small Town in Florida"
https://www.youtube.com/watch?v=K48UozQn_Jo
Englewood: Experience Englewood for Yourself
https://www.youtube.com/watch?v=-73DmSDU3DI
22 minute destination overview for hotels/in-house video loops
BrandUSA/DiscoverAmerica.com: Foreign Language Videos
Punta Gorda:
Spanish / Español:
http://www.youtube.com/watch?v=UdRYHhfG8yQ
Portuguese / Português
https://www.youtube.com/watch?v=wNOxmmKn8Us
German / Deutsch
http://www.youtube.com/watch?v=bMgSMJUKP8M
Englewood:
Spanish / Español:
https://www.youtube.com/watch?v=CsRsOe_yNyQ
Portuguese / Português
https://www.youtube.com/watch?v=T7RfipG2t_M
German / Deutsch
https://www.youtube.com/watch?v=2zZsF5PToGc