Tampa Bay Rays Spring Training
Take a Few Days and Catch Some Rays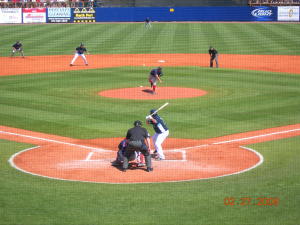 There's no better way to escape those bone-chilling, wintry blasts up north than by enjoying Spring Training in warm, sunny Punta Gorda/Englewood Beach. Our very own Charlotte Sports Park is the proud home of Tampa Bay Rays Spring Training, and we'd like to invite you to come on down and help us cheer them on. The atmosphere of a Rays Spring Training game is unlike anything else! 
The 2022 Spring Training season begins February 27 and continues through March 29, for a total of 16 games at Charlotte Sports Park. Find the schedule overview here. Times have yet to be determined, but most Rays games start at 1:05 pm, so be sure to bring your sunscreen to "catch some Rays." Keep an eye out for updates and get your tickets on the Rays site, here.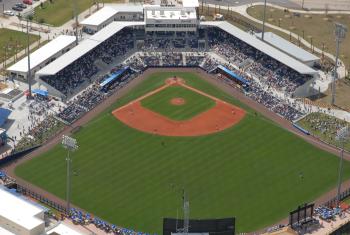 In 2022, our intrepid Rays will face down the likes of the Braves, the Twins, the Yankees, the Orioles, the Pirates, the Phillies, the Tigers, the Blue Jays, and the Red Sox—with a split-squad double-header on March 17, don't miss it! 
Charlotte Sports Park has been ranked as a top spring training facility with just 7,600 seats. There are no bad seats, and the pop of a ball hitting a glove and the crack of the bat can be distinctly heard from every corner of the stadium.
More importantly, you'll be amazed at how close you feel to the big name players, and how involved in the game you'll get. This is an experience you won't get in other stadiums, nor during the regular season.
So when it starts getting cold and snowy, start making your plans to join us for the best Spring Training experience around, with the Rays in Punta Gorda/Englewood Beach.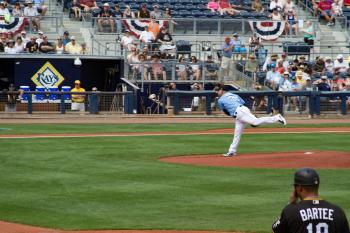 Here's a quick seating tip from the Rays website: "For seats in the shade, pick the upper rows (200 seating). In 200 Level Seating, shade is typically rows 8 and above on the first base side, and the last three rows (14-16) on the third base side. For seats in the sun, choose seats in any lower section or head to the General Admission areas on the grass berms or standing room on the Baseball Boardwalk."