Writers on the Air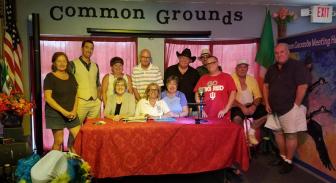 Location
Common Grounds Meeting Hall
12735 Tamiami Tr.
North Port, FL
Writers on the Air
12/15/19
Recurring weekly on Sunday

Location:

Common Grounds Meeting Hall, 12735 Tamiami Tr., North Port, FL

Phone:

(941) 223-1262

Time:

3:00 PM - 4:00 PM

Price:

Free
Socialize, share ideas, and meet new people at Writers on the Air. Looking for a stage? Family-friendly free open mic on 97.5 FM every Sunday at 3:00. Sign-up at 2:30. Be heard, writers, poets, and comedians! WKDW 97.5 FM (non-profit community radio station) is seeking writers of all levels to read for three to five minutes of a story, poem, or screen play they have written on their weekly Writers on the Air Program. As a family-friendly program, upbeat and funny material is wanted, not works about mean parents, co-workers and bosses. The group loves cheerleaders, so they want listeners..