Motorcycle World Record Poker Run: Port Charlotte, FL to Sturgis, SD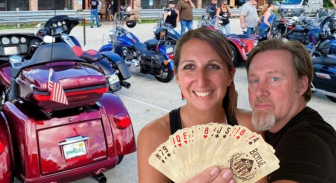 2224 El Jobean Rd.
Port Charlotte, FL
Motorcycle World Record Poker Run: Port Charlotte, FL to Sturgis, SD
7/30/21 - 8/06/21

Location:

Bert's Black Widow Harley-Davidson©, 2224 El Jobean Rd., Port Charlotte, FL

Time:

Varies

Price:

$175 per biker; $25 per passenger
Join Support Bikers in breaking the World Record for the longest Motorcycle Poker Run! Like any "normal" motorcycle poker run, the rider will "pull" five cards to make a full hand, in hopes of having the highest poker hand and winning. As with a regular run, each card is drawn at a different stop, it's just that these stops are a bit farther apart…in separate states, and this run will attempt to set a Guinness World Record, in two ways: 1. Distance: we will travel over 3,200 miles from Port Charlotte, Florida to Sturgis, South Dakota from July 30 to August 6. 2. Number of Riders: we would like to invite as many riders as possible to set this record. It will be a "once in a life time" ride. Come join us! This epic, once-in-a-lifetime ride rolls through Columbus, Georgia; Little Rock, Arkansas; Amarillo, Texas; Durango and Golden, Colorado; Cheyenne, Wyoming; and of course, land in Sturgis, South Dakota. The ride starts the morning of Friday, July 30 with the first card pull and ends Friday, August 6 in Sturgis with the last card pull. The Kickoff Party is Thursday evening, July 29, at Bert's Black Widow Harley-Davidson©. Everyone is invited but attendance is optional. Registration is $175 per rider and $25 per passenger. Register until May 31, 2021 or until organizers close registration. Riders will be on the road 8 days and 7 nights. There's no set riding time or pace to keep—your day will be however long it takes for you to ride from Point A to Point B along the route. Keep in mind that the "card pull" area at a stop is only open for a specific window of time. You have to pull a card and have it recorded before the pull area closes. Once you've pulled your card, you're free to head out for the next stop. Visit supportbikers.com/route/ for approx. mileage details for each day. Overnight stops are suggestions only. Organizers will have lodging options with discounts but you are not required to use them. There are no restrictions on the trip, but to qualify for the World Record, you must pull a card during the specified times and you must complete the route and mileage requirements. There will be no exceptions to this. There will be limited support vehicles (they will not be behind all the riders), and each rider will have complimentary roadside assistance provided. Note: Bert's Black Widow Harley-Davidson©—the first stop, in Port Charlotte—has offered to store bikes for a short time, as well as service bikes. Note: for both services, special arrangements must be made directly with Bert's, and appointments will be on a first-come first-served basis. You can reach Ber's Black Widow at 941.883.8000. Contact Gunner for storage availability and Aaron, Maryanne or Meg to schedule service. Don't forget to tell them you're with the World Record Poker Run! Lodging details, including information about overnight accommodations in Port Charlotte for the night of (or nights before) the kick-off party, will be shared with registered riders via a link to a webpage. This page will provide hotel, motel, and campground names, addresses, phone numbers, discounts, and codes if needed. You are responsible for making your own reservations and payments. All information is a courtesy and you are not required to stay at any location. Note: if you are traveling to attend the kickoff party only, please check the website often for announcements regarding the event. Donations will be made to BikerDown.org, which helps bikers who have had a breakdown, crash, injury, or fatality. The resources and volunteers are invaluable to any biker who needs assistance. Please go to their website and find out more about this great charity. OFFICIAL World Record Poker Run Memorabilia will only be available to registered riders and will include some items presented only when the rider has been verified. Merch will be available on WorldRecordPokerRun.com on April 1, 2021. Money raised selling these items will go directly to the charity BikerDown.org.