"Cyclers see considerably more of this beautiful world than any other class of citizens. A good bicycle, well applied, will cure most ills this flesh is heir to."
--Dr. K. K. Doty.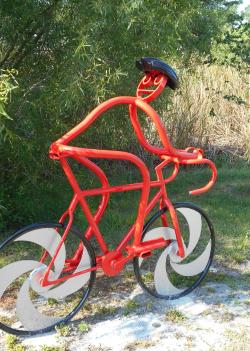 It was recently reported there's been a boom—and an ensuing shortage—of bicycles nation-wide. It makes sense, as cycling is one of those inherently socially-distanced activities many are looking for. While that's definitely an important factor these days, it's just one added benefit to the overall enterprise of riding a bike.
Of course, biking is the perfect way to explore and experience the world around you at your own pace while getting great exercise and fresh air. Biking in Punta Gorda/Englewood Beach offers all that and more. In addition to the many designated bike and nature trails, Punta Gorda boasts 30 beautiful murals that can lead you on a great ride into the history, and the present, of this beautiful little town. QR codes on each mural provide more information, and there are plenty of great restaurants and shops in which to rest and recover. Sounds like a great afternoon to us! 
Biking Events
If you're looking for a more social, but still socially-distanced, experience, check out local riding group Peace River Riders Bicycle Club (PRRBC). They maintain an informative website and an active public Facebook group that gives a great sense of what cycling is like in our area. They also organize four weekly rides, including two on Sundays and the Saturday Morning ride at Acme Bike Shop (please verify via email or phone before traveling to participate in any organized rides). Their big events are the 200-mile (!) Hamster Wheel and Wheels and Wings, which features three different route distances, a 40-mile Gravel Grinder, their famous Speed Trap Alley hosted by the Punta Gorda Police Department, and much more.
If that wasn't enough to demonstrate Punta Gorda's love of cycling, the city hosts an annual City Manager's ride, the Pedal and Play in Paradise, a two-day happening full of fun events as well as bike rides for all fitness and skill levels.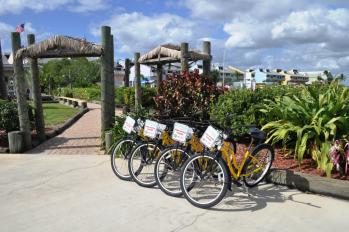 No Bike? No Problem!
If you're here and you want to ride but you didn't bring your bike, the City of Punta Gorda and TEAM Punta Gorda have got the solution: the Free Bicycle Loaner Program. The TEAM maintains 36 bicycles, 3 tricycles and one hand-pedal bike at locations throughout the city:
Fishermen's Village -1200 W Retta Esplanade, 941-575-3000
Laishley Marina – 120 Laishley Ct, 941-621-4190
Four Points Sheraton – 33 Tamiami Trail, 941-637-6770
Bayfront Wellness Center – 733 E. Olympia, 941-637-2450
They make it very easy to borrow a bike. Simply check in with host site, where they will make a copy of your ID and credit card (copies will be destroyed when you return the bike), then sign the City of Punta Gorda "rider waiver" and get your helmet, lock and cable, Punta Gorda Pathways Map, and a TEAM Loaner Bicycle Brochure, then hop on and have fun! Note: bikes must be returned to the site from which they were borrowed. The times of bike availability vary with each location, but in most cases, bikes are to be returned by 4 pm. 
TEAM Punta Gorda also provides a great local biking resource, Share The Lane Punta Gorda.

Note: In the interest of health and safety, TEAM Punta Gorda asks riders to clean the bikes before and after use with disinfectant wipes.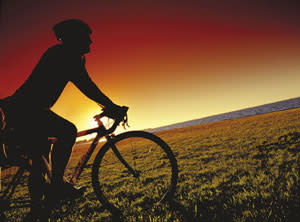 If you're wanting to go a bit farther afield at a faster pace, you can rent an electric bike at Electric Bicycle Punta Gorda, (The test ride is free.)
Inspiration
Babcock/Webb Wildlife Management Area boasts 37 miles of paved and dirt roads (and hiking trails).
There are 18 miles of Punta Gorda Pathways that circle downtown Punta Gorda.
The Cape Haze Pioneer Trail in Englewood offers an incredible 8-mile journey the length of the Cape Haze peninsula. Drop off the trail onto surface roads in Placida and cross the Boca Grande Causeway ($3 toll for cyclists) to pick up the Boca Grande Rails-To-Trails continuation that runs an additional 6 miles, the length of the island. BikeFlorida.net has details of the route, and you can also check it out with our Street View™  authorized camera trip down the trail.
We've mentioned it before, but it bears repeating: there are so many bike trails and places to ride that we dedicated an entire brochure to cycling in the area. Visit our Biking page for a nice overview, to find bike shops, and to view our Cycling Guide PDF (call us at 941-743-1900 to order a physical copy of it).
There are still new bikes to be had at local shops, as well as repair services to get you out and get rolling. Stay safe, everyone!