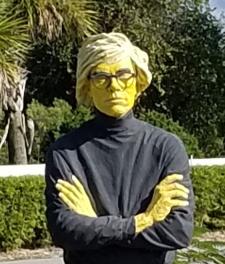 Before I arrived, I had in mind that I was going to look for "fall" colors at the Peace River Botanical & Sculpture Gardens, or at least a "Florida version" of them. That thought quickly left my head, however, at the vibrancy and novelty of the garden itself. 
Pictured: Yellow Andy by Jack Dowd. Click any photo for a larger image.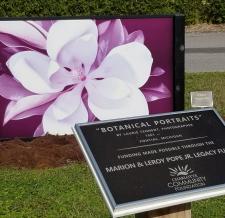 The first piece of art I saw, "Yellow Andy," by artist Jack Dowd, set the tone for a unique adventure, a magical intersection of wild art and mindful nature.
Pictured: Botanical Portrait by Laurie Tennent. 
The sculptures—from a diverse cross-section of international artists—are truly astonishing and the sheer variety of botanicals is mind-blowing. I won't even attempt to start listing anything, I'll just say keep your camera or phone ready, for there's a lot of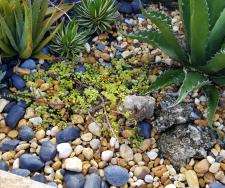 beauty to behold and photograph.
Pictured to the left: Succulent Garden. 
Pictured to the right: Koi pond with Rondelet by Lin Emery in the background.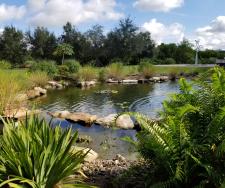 Maybe more important than the beauty, the gardens hold some fascinating strangeness: did you know there's a species of palm tree that has male and female plants? I had no idea, and still wouldn't, had I not walked up on a tour guide explaining that very phenomenon to a small group. I wasn't able to stay with the group, but I do plan to make an appointment for a tour when I go again (tours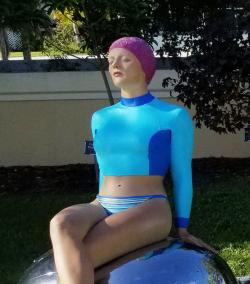 right now are by appointment or by lucking into one; your chances are better if you arrive at the top of the hour).
When you go, make the time to take your time; you'll want to experience every sculpture and plant, and likely take tons of pictures.
Be sure to follow both boardwalks through the mangroves. One leads to "Keel" (from Turkey!) and then to the gazebo right on the Peace River. The other takes you to a glimpse of "Glass Fronds" on the Tetrault property.
Pictured: Bibi on the Ball by Carole Feuerman. 
There are benches in shady places to just sit and enjoy, which was lovely, but my personal must-do was purchasing fish food from the gift shop and inciting a colorful feeding frenzy in the Koi.
Next Up: Airborne Art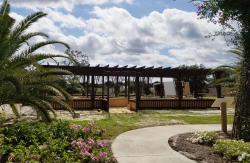 They're making great progress on a new butterfly pavilion, and hope to have it ready for visitors soon. Volunteers are already breeding butterflies, and will donate the caterpillars and/or cocoons so they can emerge into their new home at the Gardens.
Pictured: butterfly pavilion in progress.
Visit their Facebook page often to keep tabs on the Gardens, and plan to visit often, especially when the butterfly pavilion opens! 
Note: Peace River Botanical & Sculpture Gardens' "Winter Hours" (October through May) are 9:00 am-4:00 pm, Tuesday-Saturday.