Local Dessert Destination turns everyone into the ultimate 'kid in the candy store' with edible art, addictive popcorn, nostalgic candies, and year-round access to fantastical fudge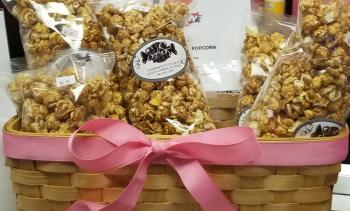 National Fudge Day is right around the corner, on June 16. You may not have felt able to fully celebrate it with the reverence it deserves, as fudge tends to be seasonal in local supermarkets, but Simply Sweet's "Buy a Pound, Get a Half Pound Free" special on June 16 this year can help you make up for all those sadly missed Fudge Days. It's easy to take advantage of, as well, as Simply Sweet is the first shop you see when you enter Fishermen's Village. It's the hot pink one, lovingly decorated by owner Catherine Perry.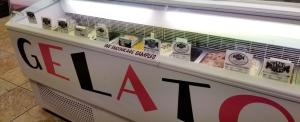 Owner Bob Perry spends all day, every day, perfecting and inventing and producing the smoothest, creamiest, tastiest fudge this side of…any other place to get fudge. His unique, hand-crafted creations have been favorably compared to the famous fudge of Mackinac Island. 
Bob's creativity knows no bounds, resulting in flavors like watermelon (yes, watermelon fudge! I sampled it, it's amazing and very watermelon-y!), jelly donut, carrot cake, dark chocolate sea salt caramel and so much more.
The 22+ flavors of fudge, the addictive flavored popcorn, and the candied nuts are all created in-house, but there's also raved-about Gelato, 32 exotic salt water taffy flavors, vintage and bulk candies, occasion cards, and all manner of chocolate bark, truffles, peanut butter cups, and more. There's even an entire shelf of sugar-free chocolates, and during season, the shop produces sugar-free fudge!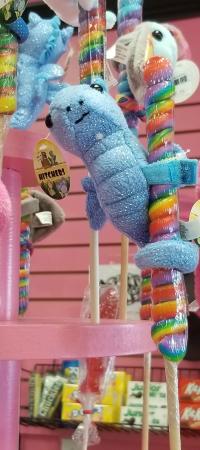 If you're looking for a souvenir, a great hostess or birthday gift, a gift-bag goodie, a holiday—or any day--treat, housewarming or "I'm thinking of you" gift, there's nothing better than something Simply Sweet. 
P.S. Serendipitously, this year Father's Day falls on National Fudge Day, so...you do the "does he really need another tie?" math.
P.P.S. They now carry the always-sublime Key Lime Pie on a Stick. Just sayin'.