SW Florida Walking Tours: Long Lunch Tour*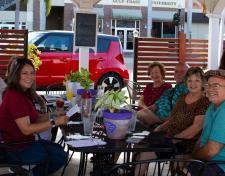 How it works: All food and water is covered in the price of the tour; any alcoholic or other drinks can be purchased separately.
How much walking it is: The tour I took was probably about 2+ miles, all told. There was only one long stretch of just walking with no treat stops, around the Harborwalk. 
The adventure began at a lovely place called Bella's Bistro. While waiting for our food—a choice of two available "signature samples"—our tour guide Evie introduced everyone and gave us the basics and a handy-dandy map of where we'd be going.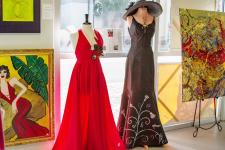 After literally the best Eggs Benedict I've ever had (and others raved about the biscuits and gravy, as well), we headed over to the Artisan's Atelier, home to many artists in all media and styles who work on the premises and are often available to chat with visitors. We got to chat with a few, and even saw two dresses by Helen Gerro that have been worn on the red carpet at the Cannes Film Festival! The Atelier is a fascinating place that warrants a separate visit all its own.
Next stop was the County Courthouse to appreciate countless decorated trees, sporting every conceivable theme.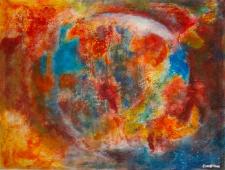 From the Courthouse, it's a short stroll to Isabel and Annabel's Mexican Restaurant, named after the owner's daughters. We were treated to the Chicken Quesadilla, cut in a special pizza style for the tour. It was so tasty, I could have eaten the entire thing. The chips and salsa were also perfection and Juan, the owner, told our group that if a person shows up at the restaurant at 7:30 am on a Saturday, they can help make the chips and salsa! Be aware, however, that it's not just making one bag of chips to take home, it's making all the chips for the day, which means working in the hot kitchen for at least an hour (but it usually takes 90 minutes). Your "payment" is a bag of chips. If you do try this, please let us know how it goes (email Julie)!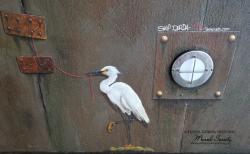 From there we popped into the Punta Gorda Chamber of Commerce and got a quick tour of their information room, which is a great resource for visitors and locals alike.
Next up was the Harborwalk, a good mile-or-so scenic walk along Charlotte Harbor that goes under both the south- and north-bound bridges. We got up-close and personal with the Punta Gorda Historic Mural Society's newest mural, Tails from the Harbor, which is actually under the southbound bridge.
Perch 360 at The Wyvern Hotel was the next stop, and what a view! The fish tacos were excellent, as well. After we ate, we heard tales of the history of Punta Gorda, and everyone left with a keepsake postcard depicting one of the stories. Evie is a wonderful storyteller and I found this a true enhancement of the experience.
The next stop was supposed to be the Vietnam Wall of South West Florida, a ½ scale replica of the Wall in Washington, but we were unable to visit due to construction in the area. It's highly recommended to visit it, however, when you're in the area. It's constructed of the same marble and is just as touching as the full-scale Wall.
From the Wyvern, it was just a short stroll to The Belgian Monk for samples of bratwurst and meatball sandwiches and a waffle with ice cream and jam (yummy!). Oh, and beer—have they got beer! It was a work day so I was unable to imbibe, but trust: I'll be back to do some tasting.
Overall, this tour is a great way to get to know Punta Gorda, from some of the wonderful local restaurants to a bit of its colorful history. There are also plenty of other tours on offer, from the Big Breakfast and Afternoon Appetizers to Holiday Ghost Stories and Haunted History to Gardens of Punta Gorda. Take your pick and go have a fun walking adventure in our little slice of paradise!  I'll definitely be trying another one in the not-too-distant future. 
*The Long Lunch Tour usually includes three stops, not four.