Let's face it, we all have friends who seem to post every… single… activity / purchase / meal / location / friend that they encounter during the day, implying their life experience is far superior to us common folk.  A wise man once asked "… but who's keeping score?"  That man didn't have social media. Now, my friends, is the time for visual revenge.
1. Shark Teeth: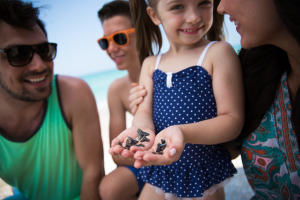 Your neighbor that has a single shark tooth on a necklace will cower when he sees the handful of fossilized shark teeth that you found within 30 minutes of arriving at Englewood Beach on Manasota Key, Florida.  Extra 'neener' points for adding the beautiful shells you found in the same photo.
2. Beach Shot:
Tweet, Facebook, Snapchat or Instagram your photo on the beach at sunrise to your friends who are still stuck in traffic on their way to work.
3. Stump Pass Beach State Park:
Hang a shell on "a wishing tree" at the end of Island, then send a photo to your most superstitious friend.
4. Kayaking:
As you're gliding through a mangrove tunnel, send a picture to your friend in New York whose daily commute includes a concrete tunnel.  Bonus if you encounter a peaceful manatee, because the caption can include "bet you don't see these in Manhattan."
5. Beautiful water:
Make sure to take a snapshot of you lounging in the Gulf, but be sure to wear that new bathing suit, because the water is often Caribbean clear.  Make sure to tag your friend whose car's AC died last week with a caption similar to, 'Ahh… refreshing.' Additional 'neener' points apply if you have a cold beverage in your hand.
6. Seafood:
Grab a rod or charter a guide and experience some of the best fishing in the country.  Depending on the species you catch, take a picture to astound your fishing friends and/or send it to your food snob friends with a caption along the lines of "Freshest seafood." Extra points apply for a selfie with a catch-and-release tarpon-- not many of your friends that fish have landed something that large... ever.
7. Beach Shots II:
Tweet, Facebook, Snapchat or Instagram your photo at a beach bar having an adult beverage to your friends who are stuck in traffic on their way home.
8. Sunset:
A picture of a Southwest Florida Gulf coast sunset always wins.  Period.  No need to caption.
9. Beach Shots III:
Send a picture from a beach tiki bar of you enjoying an after dinner drink listening to live music to your friends who have just managed to microwave dinner at 10pm and gotten box wine poured into a solo cup after being stuck in traffic for 3 hours due to construction that was supposed to be finished last summer.
10. End Game:  Winning
Wake up the next day, rinse and repeat.  If they're truly your friends, they won't unfriend you, but you might not get as many likes.  Fret not, this is a sure sign that you've successfully caught up to, or surpassed, their 'perfect life' status, and may have them re-thinking their vacation plans. 
• • •
If you haven't yet managed to make your friends jealous, never fear:  There are hundreds of other opportunities to visually needle your friends in and around Englewood Beach, and we will share some more 'top taunts' soon.  After your stay, you'll have more than enough social currency to cash any checks your friends may try to write.  But be warned, next time they may well want to come with you, which may not be a bad thing-- double selfie power.  Happy travels and we hope to see you soon in neener-ville.
#NeenerVacay #BestSideOutside