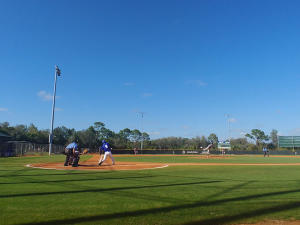 If you're a baseball fan—and the odds are good, as it's still considered "America's Pastime"—have I got a deal for you!
Annually in February and March, the top college baseball teams converge in Charlotte County to start their regular seasons, as it's more-often-than-not too rainy/snowy/frigid to play in their home states.
As a spectator, a Snowbird game feels like "real" baseball. Not that major or minor league ball is "unreal," but at a Snowbird game, you can clearly hear the crowd and the players in the dugout encouraging the players on the field. The ping of the ball on the bat and the thump of the ball into a glove is also clearly audible, and it sounds like summer, in February and March.
Not only are you closer to the players than at probably any other venue, you will witness stellar baseball. Over the course of just one hour, I saw quite a few plays that impressed, and several that drew gasps.
Literally, the Stars of Tomorrow
Quite a few of these college players end up in the big leagues and professional scouts are regular attendees. In fact, there were over 40 of them catching games over just one recent weekend!
You Don't Have to be Related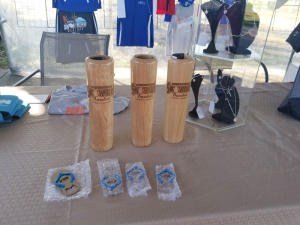 At first, I assumed the crowd was comprised of only the players' families, but one set of parents staying in the area said they've seen regular baseball fans, as well, in addition to school alumni, family, friends, and the aforementioned scouts.
 Attendance is a deal and a half for said fans, as well. $10 admission, a couple of bucks if you want to rent a chair—but there are bleachers with handy-dandy sunshades—and a concession stand providing tempting aromas. The store contains some really fun items, as well. 
As an added bonus, friendly volunteers are everywhere, to answer questions and shuttle people around in golf carts.
Saving Dates
Snowbird Baseball swings into play annually, late February through late March, on the fields of both North Charlotte and South Charlotte Region Parks in Charlotte County, Florida.
Veterans and active military get free admission every Wednesday, and locals with valid ID get in free on Tuesdays.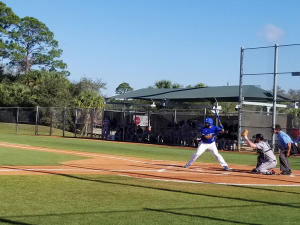 The Perfect Way to Spend an Afternoon
If you want your baseball in its purest, most possibility-laden form, you owe it to yourself to attend a Snowbird Baseball Classic game.
Visit snowbirdbaseball.info for the full schedule of games and fields, and get on deck!
Updated 7/23/2020 to remove specific dates.