Tutti Frutti Fish by Jan Pronko, at Sea Grape Gallery
Here's a nice overview of some cool places to shop, explore, create, and indulge in beautiful, historic Punta Gorda.
Shopping IS a Treasure Hunt
Sea Grape Gallery is a non-profit co-operative artists' gallery and veritable wonderland of original fine art by southwest Florida artists. Find treasures in many different media, from paintings and jewelry and sculpture and ceramics to glass and fabric, hand-crafted knives and kaleidoscopes. The artists are sometimes there, so you may be able to talk to the creator about a piece that catches your eye! Gallery hours are 10 to 5 Friday and 10 to 4 on Saturday. Address: 113 West Marion Ave.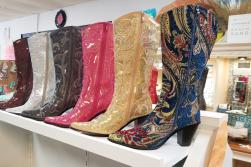 Hipnotique Boutique is a local gem that makes boutique shopping affordable. Featuring eclectic and one-of-a-kind items and varied décor, jewelry, clothing and shoes (and sequined cowboy boots!), essential oils, and so much more, it's a destination in itself.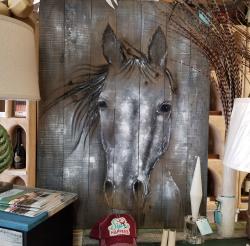 Tiki's Boutique is a decorator's dream! The unique furniture and décor ranges from funky to elegant, and your eye will be happy wherever it lands. There's also a mouth-watering wall of wine and a lot to explore in this lovely shop. 
Copperfish Books is local treasure. Find the hottest new releases, books by your favorite authors, and creative recommendations to expand your reading list. Also features gifts, cards, coloring books, puzzles, and much more. Author talks (currently online) and virtual book launches round out a fulfilling literary experience. 
Pomeg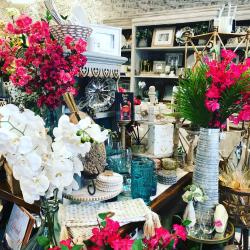 ranate & Fig Gift Boutique is a wonderfully varied place to find just the perfect gift, for you and everyone on your list. You will find a unique selection of home décor, fashion for women and children, and a wonderful selection of candles and home fragrances. All gifts receive complimentary gift packaging!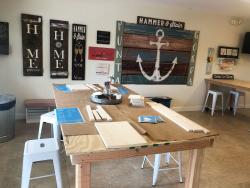 Honor the Creative Impulse
All that shopping is going to be inspiring, and there's a great place to express that: at Hammer & Stain. Create your own handmade custom artwork with an instructor-lead class. There's no better way to remember a place or an experience than by making something with your own hands! They provide the wood, designs, paints and stains, and you leave with good memories and a personal keepsake.
Reward Yourself
To reward yourself for all the hard work of shopping and creating, indulge in a luxurious service at Perfectly Polished Nails, which is half a block (east on Marion) from Pomegranate & Fig. They perform all nail services including sculpted acrylic extensions, fills, overlays, gel manicures and pedicures as well as traditional manicures and pedicures. Facial skin waxing and brow tinting also available. We all deserve some self-care!
We hope this list inspires you to get out and enjoy all that beautiful downtown Punta Gorda has to offer. See you around!