Locals and the many families who've vacationed on Englewood Beach for generations would like to keep Charlotte County's only Gulf of Mexico beach a secret. And for that we apologize.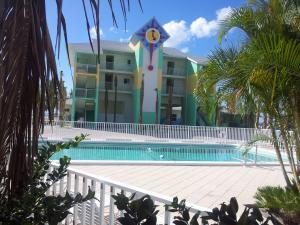 If it weren't for a fear of heights, we'd head straight up to the rooftop and give a shout out: Manasota Key is one of the most undiscovered and special islands in Florida. Here, you'll actually see sand between beach towels, experience a vibe even more laid-back than Jimmy Buffett and enjoy genuine and authentic Old Florida, the way it was back in the day.
Englewood Beach may be best known for what it doesn't have: stoplights, high-rise buildings, fancy five-star restaurants and franchises. Instead, you'll find tiki hut bars, quintessential beach restaurants and an all-encompassing toes-in-the-sand attitude.
Weston's wannaB inn, on the south end of the island next to the 245-acre beachfront Stump Pass Beach State Park, is perfectly located for your island adventures – whether you want to unwind and unplug or bring your boat for adrenaline-pumping sport fishing. Some say it's so quiet here you can hear a conch shell and the sunsets over the Gulf are always spectacular.
Stay at this 80-room boutique inn, and you won't miss the gym or spa. Sticking to an exercise routine is as simple as stepping outside. Trade in the treadmill and sneakers for a barefoot walk on the beach; the spinning class and rowing machine for the real thing – bike and kayak rentals – or challenge other guests and your family to a competitive game of bocce or pickleball. There's even a DIY spa treatment locals swear smooths the skin: combine sand and coconut-scented tanning oil for easy exfoliation.
Catering to couples, families, fishing buddies and anyone in search of an away-from-it-all vacay, the inn's 17 colorfully painted buildings and cottages are scattered throughout five acres on a narrow slice of land nestled along both Gulf beach and Lemon Bay. Accommodations include studios, one- and two-bedrooms units and a handful with three bedrooms – all with kitchens and fun retro design. Seven distinct campuses create intimate gathering areas with cabanas and grills and share two swimming pools.
Many visitors bring their boats. The inn's onsite boat ramps were the first on Manasota Key and recall the area's origins as fish camps. Dock with us or connect with local fishing captains for back-water and mangrove fishing in Lemon Bay and quick access to the Gulf and the nearby top tarpon fishery in Boca Grande Pass.
The inn is close enough to the beach bars and restaurants at the turnabout from the bridge to the mainland and far enough removed, you can hear yourself think, not to mention notice the gentle lull of waves and a different kind of tweet – from shorebirds.