I admit it: I'm a spa junkie. No matter where my journeys take me, there's almost always a massage or facial involved (expect maybe during that middle-of-nowhere Florida kayaking trip or a two-day hike around part of Lake Okeechobee). But darn if I didn't try.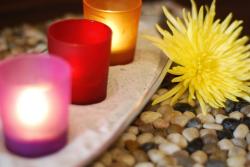 I've learned – thanks to many, many spa visits – the secret to getting the most from a vacay or a weekend stay is to book a spa treatment STAT. A massage or pampering service the day you check in or take over your family's guestroom coaxes your mind and body into relaxation mood, accelerating the much-needed de-stressing detox. From Punta Gorda to Englewood, Charlotte County delivers a variety of day spa experiences with a host of innovative and traditional services guaranteed to give you a jump start at slowing down. 
Designed to European spa standards and located in Punta Gorda's charming downtown, the elegant and welcoming Spago offers full hair and nail services, spa treatments and even a medispa should you decide on the latest non-invasive procedures to freeze away stubborn body fat or lift your neck, cheeks or forehead. The spa's expert aestheticians will tailor your massage, facial, body treatment and men's services to your specific needs. Another confession: I nodded off (and maybe even snored a bit) during a recent signature facial using physician-grade PCA skin products.
Spago's popular 60-minute body glow gives you smooth swimsuit-ready skin. A variety of spa journeys combine favorite treatments, perfect for couples enjoying together time. The spa will also cater lunch and offer champagne to ignite your romantic vacation. 
Spa One Day Spa & Salon, also in Punta Gorda, offers a full menu of services from the tips-of-your toes to top-of-your hair and everywhere in-between, including fast-blasting, wrinkling-reduce Elixis and specialized treatments for a years-younger look. Spa One's staff are pros at complete body makeovers, good hair days, massages and body wraps.
Port Charlotte's Turning Head Salons and Day Spa is known for its budget friendly 60-minute Swedish relaxation massages. Priced at $39, visitors can opt for hot stone and deep tissue add-ons without breaking the bank. Turning Heads also offers complete hair and nail services, sea salt scrubs and spray tanning that makes you look like you've spent the day at the beach without the bothersome sand stuck to your sunscreen.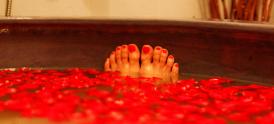 Visit Emmett's Salon & Spa offers the county's ultimate spa location – just a mile from Englewood Beach. Stay at the adjacent  Old Florida era Sun Life Beach Hotel and you just might be tempted to book a daily massage or facial (I, of course, say go for it). The salon is also stocked with Aveda products renowned for their intoxicating aromas.