You know something is very good when you find yourself planning your next visit before the first is even over, and that's exactly what I was doing about 10 minutes into my first Riding the Waves trip.
It's exciting and a bit challenging in a good way to be responsible for driving—piloting, that is—the little "personal power catamaran," but that's also a big part of the appeal. Learning to handle a completely new vehicle helped brand this trip a true adventure, and chances are, if you can drive a car, you can handle one of these little crafts.
After a bit of overview, we started off nice and slow. Getting used to the controls took a minute, but our guide was pure patience. You steer with your left hand and the right works the throttle. Trust: once you get the hang of it, that's when the fun really begins!
This was a true wild life adventure. Right off the bat we saw an oyster bank and lots of birds, but the best was yet to come. Our eagle-eyed guide had us stop in time to see two dolphins, one a pretty small baby, surface about 20 feet from us. Seeing dolphins that close-up in the wild is a huge thrill!
After a dip and some shelling at a sandbar, where I found my first fossilized shark teeth, we took a stroll and experienced a whole other world of aquatic wildlife that shocked and amazed.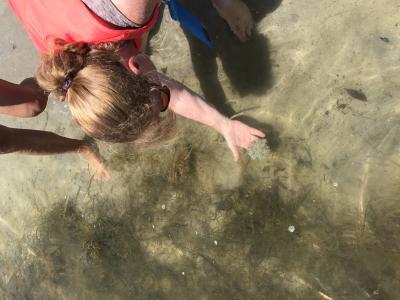 If you're a water person or a boat person—or a fish or wildlife or shell person—put on your swimsuit, slather on the sunscreen, grab some water, and head over to Cape Haze Marina for an amazingly natural Florida experience with Riding the Waves. (That is, call for a reservation or visit their site to book, then head on over.)