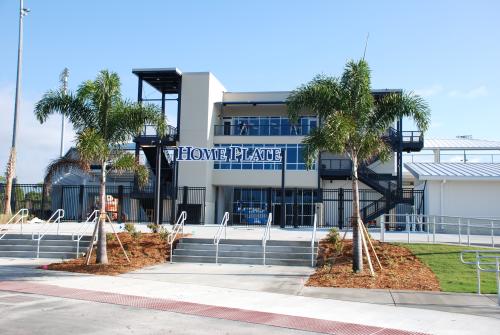 Take everyone out to the ball game! Tampa Bay Rays Spring Training kicks off February 22 and runs through March 26, but if you have little ones, you'll want to attend Fan Day, February 18, 11:00 am—1:00 pm. This first full-squad workout is also a day of family fun, with intimate access to Rays players and workouts, inflatables, face painters, games, concessions, and mascots.
There's no better way to experience baseball--and get a good feel for the upcoming season—than attending a Spring Training game. Or four. Or ten.
The state-of-the-art Charlotte Sports Park is always a joy to visit, with a boardwalk ringing the outfield, kids play area, top-notch concessions and beer stands, a tiki bar that serves cocktails, top-of-the-line team store, group function areas, and a luxury suite level.
As one game-goer observed, "My favorite thing about the Spring Training games is how close you can get to the big name players. It really makes you feel involved in the game when you are right there. It's certainly an experience that you do not get during regular season!"
The stadium was built in 1987, underwent a $27 million renovation that was completed January 2009, and was named the #1 spring training destination by the readers of USA Today and 10Best in 2014.
The Rays Baseball Foundation Spring Training 50/50 Raffle ensures that one lucky fan at each spring training home game will walk away with 50 percent of the gross proceeds of the game, so be sure to find a uniformed raffle ticket seller any time from the gates opening to the end of the sixth inning. No purchase or contribution is necessary to enter but there is a suggested minimum donation to the Rays Baseball Foundation. Click for raffle rules and regulations.
Click to buy tickets ~ Click for the complete Spring Training schedule ~ Click for more information about the park ~ Click for news about the 2019-2020 Tampa Bay Rays
Quick tip from the Rays website: "For seats in the shade, pick the upper rows (200 seating). In 200 Level Seating, shade is typically rows 8 and above on the first base side, and the last three rows (14-16) on the third base side. For seats in the sun, choose seats in any lower section or head to the General Admission areas on the grass berms or standing room on the Baseball Boardwalk."
Click here for our Spring Training Press Release which includes things to do in the area.
The Rays and Charlotte Sports Park are proudly celebrating 10 years of Rays baseball in Charlotte County!