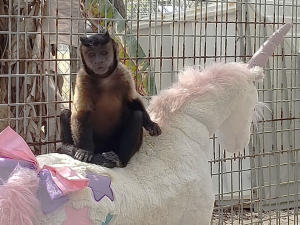 You may get a certain song from a certain musical stuck in your head when you're on your way there, but it's worth it!
Half an hour from downtown Punta Gorda is Octagon Wildlife Sanctuary, a place that affords unprecedented, up-close views of lions and…other big cats of all stripes (so to speak), primates and bears, hyenas, reptiles, birds, and many other animals. There's also the "pond residents," a community which includes burros, ducks, chickens, geese, and turtles, and of course, the parking lot goats.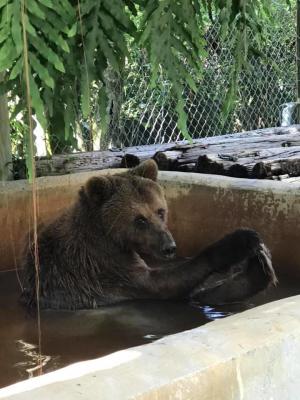 Octagon is not a zoo, but a sanctuary for abused, abandoned, and aged exotic animals. None of the animals have been taken from the wild, they've been rescued or relinquished, and they will each live out their lives in comfort at Octagon.
It's a clean, friendly place, and the animals are healthy, content, and obviously well cared for. You'll find yourself much closer to the residents than at a zoo, which is thrilling.  Until you've been within 30 feet of a lion when it roars, you may not truly appreciate what "feel it in your guts" means!
Also, if it's your first time there, one of the volunteers will tell you the story of the rescue, which spans over thirty years and is fascinating and touching. Following their Facebook page grants access to tons of great photos, videos, stories about the animals, and more!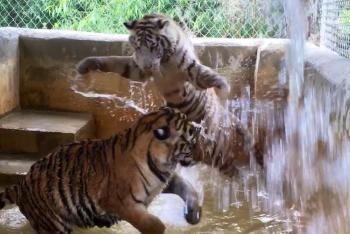 Admission—cash or check only—is $10 for adults, $5 for seniors 55+ and kids 8—17, and free for children 7 and under. They're now open Mon.-Fri., 9 am-noon; Sat., 11 am-4 pm (year round); and Sun., 11 am-4 pm (Nov.-May)
Every time you visit, you'll learn and experience something new, so plan to check in with the animals each time you're in the area.
Added benefit: right across State Road 31 is Babcock Ranch, America's first solar-powered town, and a perfect place to grab lunch after your wild adventures!
Octagon Wildlife Sanctuary
41660 Horseshoe Rd.
Punta Gorda, Florida 33982