There's something about the beauty of Charlotte County that sparks the creative spirit. And while the mere thought of picking up a paintbrush makes me break into a cold sweat, there's little I enjoy more than checking out the local art scene. Happily, Punta Gorda offers a wealth of opportunities to do just that.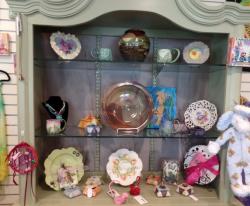 The Visual Arts Center (VAC) is the gem of Charlotte County for both artists and art appreciators. The VAC's galleries are home to more than 20 exhibits over the course of each year. Its gift shop consistently yields surprises with creations like pine needle baskets and beaded jewelry. The VAC also hosts the Peace River Art Festival in Laishley Park during the third week-end of March, an annual event that draws artists from across the country.
The Artisan's Atelier is a collective space where artists "show, tell and sell." What makes the Atelier unique–and really fun–is visitors' ability to talk with artists about their inspiration and processes while enjoying their work. At last count, ten artists were on site, including photographers, sculptors, and painters. There's even a custom couture designer for your fashion needs.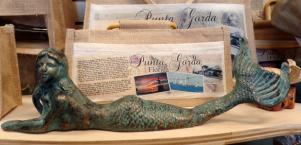 If you're into gallery hopping, Punta Gorda's got you covered. Visits to Punta Gorda's largest galleries–Sea Grape Gallery, Creations at the Village and Creators' Touch Gallery–will introduce you to the work of more than 175 artists.  Expect the unexpected as you discover works as varied as wood carvings to watercolors.
Punta Gorda's art isn't limited to spaces within four walls, though. More than 25 murals grace the sides of buildings and walls across the town. A self-guided mural walking tour is a fun way to learn about the City's history while enjoying the work of some fine artists. (Did you know, for instance, that Teddy Roosevelt came to Charlotte Harbor to fish?) The Punta Gorda Historic Mural Society website provides a map of mural locations and information about the events they depict. 
Last (but not least), if you happen to be in the area on the third Thursday of the month, don't miss Gallery Walk. From 5 p.m. to 8 p.m., shops and galleries in downtown Punta Gorda welcome strollers with wine, nibbles and conversation. Live music abounds on many a street corner. It's traditions like Gallery Walk that make Punta Gorda such a special place.