There's a festival for almost any interest in Punta Gorda/Englewood Beach. Throughout the year, area organizations offer celebrations of music, culture, food, history, community, nature, and even speed boat racing! Check out the list below to plan a "Fest-Venture" for when you're able to explore our area again.
*As always, schedules are subject to change and many events have been cancelled or postponed due to COVID-19. Please verify an event is still taking place by visiting Facebook pages and web sites.
Peace River Pride, January (Punta Gorda)
The Peace River Pride festival is a celebration of LGBTQ+ community, history, and culture! Featuring a fabulously diverse range of drag performances from SWFL local artists, musical entertainment, Pride gear vendors, food trucks, and much more! Visit their Facebook page.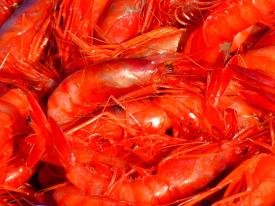 Englewood Seafood & Music Fest, January
Enjoy a delicious array of seafood ranging from Cajun-style crawfish to raw bars, the festival's beer garden, alcoholic and non-alcoholic drinks, live music, arts and crafts, and a variety of attractions for all ages. Free admission. Visit their Facebook page
9th Annual Charlotte Harbor Chili, Beer, and Blues Festival, January
Sample great chili and over 50 Craft beers to sample and enjoy by the can/bottle while enjoying three great bands: Deb & The Dynamics, The Nouveaux Honkies, and Grammy award winner Buckwheat Zydeco Jr & The ils sont partis band direct from New Orleans! Visit their Facebook page/
Sullivan Street Craft Festival: January; Mar. 14 and 15; Sept. 19 and 20; Nov. 28 and 29 (Punta Gorda)
This now-quadrennial art event highlights the talents of some of the nation's best artists and crafters! Shop to your heart's content, then explore the charming streets, shops, and restaurants of historic downtown Punta Gorda. More information here.
Lemon Bay Cracker Fair, February (Englewood)
Don't miss this celebration of Old Florida, with food vendors, artists, authors, local merchants, crafts, music, and a Lemon Dessert Baking Contest! Details on their website.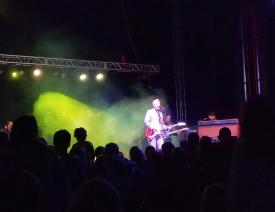 Funk Fest, February (Punta Gorda)
Funk Fest 11 features food trucks, vendors, some of the best live funk bands around, and more! Bring your own chair, but no coolers, backpacks, large handbags, or outside food or drink. Get more information on their website.
Punta Gorda Seafood & Music Festival, February
Delicious seafood, live music, free admission! Downtown Punta Gorda at the City Marketplace. Performers include Billy Rice Band (country rock); Free Fallin' (Tom Petty Tribute Band); Fleetwood Max (Fleetwood Mac Tribute Band); Bryan Spainhower (Musica Eclectica: fusion of flamenco, jazz, rock and country); The Dr. Dave Band (classic rock, country, bluegrass); JP Soars & The Red Hots (soul, blues); Twinkle & Rock Soul Radio (rock, soul); CeCe Teneal & Soul Kamotion (blues, soul, roots); West Coast Steel Pan Band (jazz, Caribbean); The Verge (classic rock, 70's to present); and Reverend Barry & The Funk (funk, soul). Visit their Facebook page for more information.
15th Annual Wine & Jazz Fest February
The line-up for this 15th Anniversary Show includes Matt Marschak and Eric Darius, then the ever-popular Mindi Abair will bring the show to its climax with a retrospective of her jazz career, focusing her performance on the songs that got her to where she is today! Get tickets and more information on the Punta Gorda Chamber site.
24th Annual Florida Frontier Days, February
Pioneer style crafts and wares in the beautiful, historic Punta Gorda History Park. Admission: adults:$3; children under 12: $2. Click this event link and visit facebook.com/CCHistoryServices for more!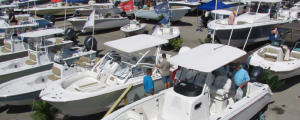 Lemon Bay Nautical Fest & Boat Show, March
Over 100 boats on display from the area top dealerships, as well as a vendor market featuring some of the finest artwork and nautical gear around! Add food trucks, live music, cold beer, and a nautical flea market, and you've got a "must attend" event! Visit facebook.com/LBSRotary and nauticalfest.com for more details.
Placida Rotary Seafood Festival, March
Featuring seafood, beer/wine/mixed drinks, live music, nautical vendors, arts and crafts, and a bounce house, this festival will be fun for the whole family! Free admission/$3 parking. Visit facebook.com/placidarotary for details. 
Pirates in Paradise: Pillage the Village, April
This free event features local Florida rum, signature drinks and tastings, live music, vendors, a costume contest, a Mermaid Shack, "Festival Glitter by Liza," photobooth, and music by Michael Haymans, Deb and the Dynamics, and Jesse Rice. Enter Rum World to sample a free cocktail from each of the invited craft Florida-based Rum Distilleries and make your choice as favorite, giving bragging rights to the overall winner. Rum World is $25 per person and the first 200 people get a souvenir 5.5 oz branded sampling cup. Grouping up? Get a guaranteed stage front table for up to 8 people and 8 Rum Tasting tickets for a total of $400. Call 941.639.3720 to reservations. Taking place on the Great Lawn of the Four Points by Sheraton. Click here for details.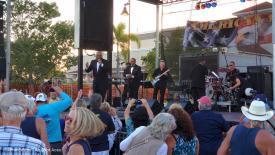 Punta Gorda Block Party, April
Three stages with multiple genres of music in historic downtown Punta Gorda, which offers plenty of shops and restaurants to explore while you're there! Stay up to date on their Facebook page.
Arts in April at Fishermen's Village, April
Presented in conjunction with the Visual Arts Center of Punta Gorda, this stellar art show features fine art, pottery, glass, and jewelry created with love and care by local and regional artisans. Stay up to date at the Facebook pages of Fishermen's Village and Visual Arts Center of Punta Gorda.
Englewood Earth Day Festival, April
This free family and community event, hosted by Barrier Island Parks Society, is a local favorite and fun for all ages! Enjoy live music, local non-profits and vendors, educational programs, animal rescues, kid's free bike raffle give away, informative demos, plant sales, nature trail walks, and so much more! Visit the Barrier Island Parks Society Facebook page for more.
Punta Gorda Hibiscus Festival, May
The 16th Annual Hibiscus Festival is back at beautiful Gilchrist Park! This one-of-a-kind festival celebrates and shares the unique history and character of Punta Gorda—known as the City of Hibiscus!—and its connection to the hibiscus and one of the world's most renowned hybridizers, lifelong resident, Harry R. Goulding, aka King Harry. Featuring music, vendors, food, and the Little Miss Hibiscus Pageant. More details as they're available here.
International Culture Fest, July (Punta Gorda), July
The 3rd Annual International Culture Fest at Fishermen's Village will feature cultural food, vendors, displays, and performances amid the stellar shops and restaurants of Fishermen's Village! This fun and enriching experience will excite the whole family! Free admission and parking. Keep an eye on their Facebook page for updates.
Big Orange Music Fest, November
Big Orange Music Fest on the beautiful Peace River features 8 national touring bands, 2 stages, food trucks, vendors, full bar, and so much more. Now in its 5th year! Keep an eye on their Facebook page for updates.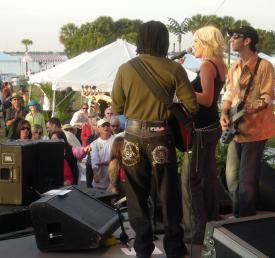 Mindi Abair & Friends, November
This rockin' wine event will be hosted and co-emceed by Mindi herself! She will introduce all the acts and show you some of the talent she has worked with over the years. Cash bar available. Details on the Punta Gorda Chamber site.
Coastal & Heartland National Estuary Partnership (CHNEP) Nature Fest, November
The CHNEP Nature Fest features environmental educators, live animal exhibits, speakers, guided nature walks, food trucks, and more importantly: plant and nature art vendors! It's a great way to "celebrate the splendor" of Southwest Florida! Keep an eye on their Facebook page for updates.
Englewood Beach Waterfest, November
Speed boat racing, Conservation Center, live music, food, vendors, and the beach—sounds like a plan! Stay tuned to their Facebook page for updates on 2020's Waterfest.
We hope you find a fest to excite you when you're in our area--or one to inspire you to visit us! 
*Updated 4/10/2020