On September 6, 2016, I was part of a group that joined Emily Ellyn, Retro Rad Chef from Food Network Star. This turned out to be an experience of a lifetime as we previewed Let's Eat, Englewood.
Let's Eat, Englewood is a two-week celebration of local restaurants that is hosted by the Englewood Florida Chamber of Commerce. It began on September 15, and continues through September 29. The emphasis of this event is promoting public awareness of local, culinary cuisine on a tighter budget.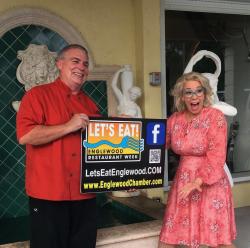 The first restaurant we visited was a little place called Villa Capri. Villa Capri serves its customers a tasty combination of Italian and Seafood. This was a great place for the group to start out at because the portions were lite but flavorful. Here we met Nick, who recently bought the restaurant. Nick explained to us that when he bought the restaurant, he wanted to make some positive changes like making everything from scratch with fresh ingredients. Let me be the first to say that Nick's passion for his work resonated through his food. We started with a warm basket of bread with some oil and vinegar for dipping. Next, a delightfully refreshing blueberry lemon vodka infused drink. When served the main entrée, my taste buds exploded. A sampling of his 11 spice rub ahi tuna, homemade linguine (my favorite!), meatballs made from scratch with homemade sauce, prosciutto wrapped mozzarella, and bruschetta. Lastly, we were served profiterole -- a cream puff dessert -- and homemade lemon cello to end the meal.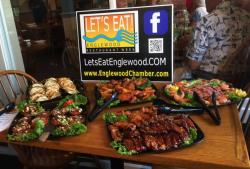 Next was an American restaurant called Rum Bay at Palm Island Resort. The only way to get there? A water taxi! This was by far one of the most memorable parts of the whole experience, as we got to see dolphins up close and personal when they played in our wake. Cool, right? We arrived to a buffet-style setup. The buffet consisted of Rum Bay's famous ribs with their signature swamp sauce; chicken wings with multiple flavored sauces; peel 'n eat shrimp; tomato slices topped with blue cheese, bacon, and balsamic glaze; and rare ahi tuna. All the food here was delicious, but my favorite was the tomato creation because of how unique and flavorful it was. The chef came out and gave us a presentation of the food and you could tell he was proud.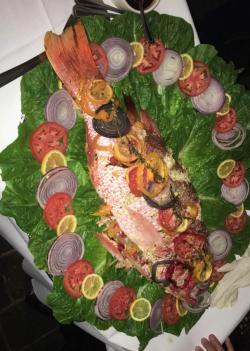 Our last stop was Farlow's on the Water, an American/Caribbean restaurant. Farlow's was ready for us when we arrived, and they went all out! Right away they started us off with some white sangria and scallop ceviche. The sangria was fruity, and the ceviche was refreshing. Next, Farlow's dropped off a platter that featured a variety of cheeses, grapes, homemade crackers, and real honeycomb!! Simultaneously, they served us Johnny Cakes -- a biscuit-like cornmeal flatbread – which are native to Keith Farlow's homeland of St. Croix. I slathered some of the fresh honeycomb onto my Johnny Cake and it was HEAVEN!! The appetizers were my favorites taste-wise, but the main entre was a beautiful presentation. Everyone was amazed to see the Farlows wheel out a WHOLE red snapper that was caught in American waters and stuffed with local herbs. Farlow's has a beautiful atmosphere marked by waterfront seating and illuminated by candles and lights – a perfect venue for any occasion.
The night was a fantastic experience. For someone who is not from the Englewood area, this definitely inspired me to dine and explore it more often. I encourage you to also! Over a dozen local restaurants are participating in Let's Eat, Englewood offering special menus and prices. Don't miss it!