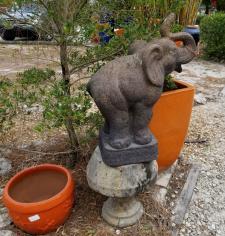 Pottery Express and Bamboo Farm is a five-acre gem is not only a shopping mecca, it's a destination in its own right for visitors and locals alike. The lovingly-landscaped property is overflowing with, well, everything!
The owners travel and curate pieces from Vietnam, Mexico, Spain, Indonesia, Colombia, and the U.S. They also feature pottery demonstrations from local artist Wally Graskoski from time to time, and offer a selection of his pieces for purchase.
You'll find ceramic (and some metal and glass) decorative and functional art of every style, color, size, price range, and purpose, gargantuan garden pots, outdoor sculptures and fountains of all sizes, and Ecosmart Poly Lumber outdoor furniture. There's Talavera of every size, sculptures, wall art, figures, and tons of cool stuff you won't find anywhere else, including amazing one-of-a-kind art pieces in glass cases, complete with artist biographies. 
The bamboo farm on the property is alive with many breeds of clumping bamboo suitable for landscaping.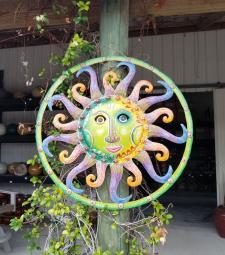 You don't have to have shopping in mind to visit. All are welcome to explore and enjoy the grounds and experience the surrounding relaxation and inspiration. You'll find lots of little nooks to sit and read or just soak up the nature. This is a no-smoking property, so the fresh air is truly fresh.
Five acres is a large area, which makes for a lovely meander. If you're not up for all that walking—or if you just want to have some serious fun—there's a golf cart available (free) for customer use. 
Leashed dogs are welcome.