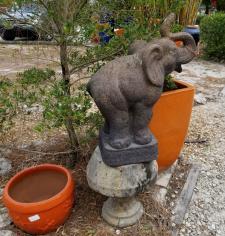 The thought that went through my head over and over as I kept discovering amazing new areas filled with colorful treasures at Pottery Express and Bamboo Farm was, "This place is crazy, just insane."
This five-acre gem is not only a shopping mecca, it's a destination in its own right for visitors and locals alike. The lovingly-landscaped property is overflowing with, well, everything!
The owners travel and curate pieces from Vietnam, Mexico, Spain, Indonesia, Colombia, and the U.S. They also feature pottery demonstrations from local artist Wally Graskoski from time to time, and offer a selection of his pieces for purchase.
There's no way to even scratch the surface, but some of what yo
u'll find includes ceramic (and some metal and glass) decorative and functional art of every style, color, size, price range, and purpose. Customize your outdoor space with gargantuan garden pots, outdoor sculptures and fountains of all sizes, and Ecosmart Poly Lumber outdoor furniture. There's a ton of stuff for indoors, too, from Talavera of every size, to sculptures, wall art, figures, and tons of cool stuff you won't find anywhere else, including amazing one-of-a-kind art pieces in a glass case, complete with artist biographies. There's even a special "lamps and mirrors room" (which I only peeked into but will be back to explore at length).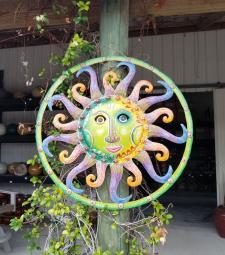 The bamboo farm on the property is alive with many breeds of bamboo suitable for landscaping.
Nature is also nurtured. We saw bunnies, chickens chilling in their coop, Florida softshell turtles in the beautiful little pond, and the Florida-requisite lizards everywhere.
Speaking of the pond, there are periodic yoga classes next to it, and that's just the tip of the happenings iceberg. The grounds have played host to many groups and their unique events, like plein air (outdoor) painting, food trucks, bamboo walk-and-talks, reiki healing workshops, car club shows, chakra classes, make-and-takes on essential oils, body scrubs, etc., and much more. Once things settle down a bit, you can bet on more fun, interesting, and educational events, which hopefully will include their Customer Appreciation days. These don't-miss events feature all kinds of sales and fun, food trucks, and more.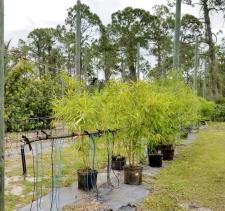 You don't have to have shopping in mind to visit. All are welcome to explore and enjoy the grounds and experience the surrounding relaxation and inspiration. You'll find lots of little nooks to sit and read or just soak up the nature. This is a no-smoking property, so the fresh air is truly fresh.
Five acres is a large area, which makes for a lovely meander. If you're not up for all that walking—or if you just want to have some serious fun—there's a golf cart available (free) for customer use.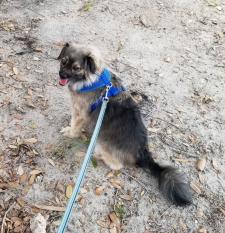 (Just a tip: the "reverse" is a black toggle button located at the base of the front seat, right in the center.) It was my first time driving one, and that was an experience in itself!
I was there for over an hour and I feel as though I just barely scratched the surface. Next time I go (yes, already planning!), I'm going to give myself at least 2-3 hours and truly take my time to be sure I've seen as much as possible.
Leashed dogs are welcome, and my own little Kevin approved of the entire experience!