We know snowbirds migrate to Southwest Florida for the winter but where do native birds and other Florida wildlife recuperate around here? At the Peace River Wildlife Center, of course, located in Ponce de Leon Park in Punta Gorda.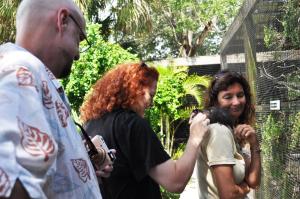 A tour of the facility reveals the amazing work this nonprofit organization accomplishes. Fully funded through donations, the Center provides tender care to injured and orphaned native wildlife, whether a bird, reptile or even a deer (sorry, no venomous snakes permitted). The Center's mission is to return rehabilitated animals back to their natural habitat, but if animals are not able to return to the wild, they will be given a permanent home at the facility.
During a recent visit, we encountered some injured-and-recuperating wildlife including a cuddly opossum named Peter Pan (because he refuses to grow up) and a small gopher tortoise that met the teeth of a dog and was now healing nicely.
Funny thing: native, non-injured birds also like hanging out at the Center. Perhaps they enjoy the company of other birds but we suspect it's the guarantee of a meal or two. 
For some added entertainment, visit around 2:30 pm for the afternoon pelican feeding frenzy, try chatting up Spirit the Raven, play peekaboo with the owls, and pay attention to how the birds on the inside interact with those coming for a visit.
Admission is fr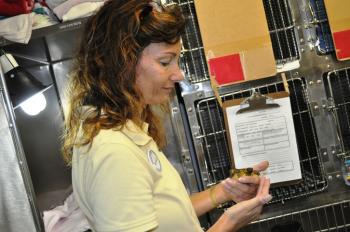 ee into the Peace River Wildlife Center, but donations are gratefully accepted and appreciated, as the facility relies on donations to fund ALL operations. The facility is open seven days a week (closed for Christmas) and tours are offered twice daily. (3400 Ponce de Leon Parkway, Punta Gorda,)