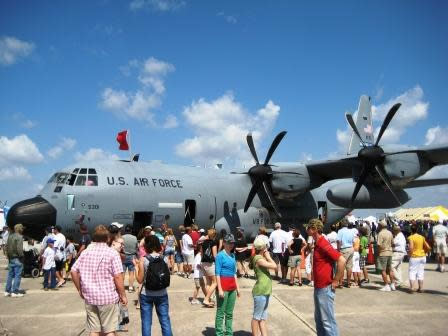 The Florida International Air Show returns to Southwest Florida skies March 24 – 25, 2012, with not one, not two but three jets teams. U.S. Navy Blue Angels  headline this year's show with precision aerobatics at speeds up to 700 mph. Black Diamond Jet Team, America's premier civilian-owned demonstration team and Team RV will also race across the sky during the 32nd annual event.
Performers and History Displays Florida International Air Show attendees will be wowed by precision by the U.S. Special Operations Command Parachute Demonstration Team and aerobatics by an F8F Bearcat, Twin Beech 18 MX2 and U.S. Navy F/A-18 Super Hornet. On the ground, visitors can see the vroom of the Wicked Willy Jet Funny Car, powered by an engine typically used in F-5 and T-3 Fighters. They can also get up close with: C-54 Berlin Airlift Museum, Spooky AC-47 Gunship, American Flight Museum, Panchito-B-25, WC-130J Hurricane Hunter and MH-53 Sea Dragon, to name a few of the aircraft scheduled to appear.
Military branches will be exhibiting along with government agencies and other organizations. Of course, there will be food available for sale.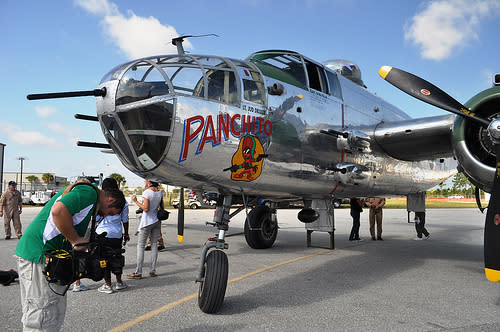 Take Flight with Living History In addition, see a WWII B-29 bomber and world's only Flying SB2C Helldiver. Better yet, during the days leading up to the air show, take a ride in either one of these historic planes. That's right. Ride in one of the rarest WWII bombers and/or (depending on your budget), fly the sky with the world's last Flying SB2C Helldiver. Talk about bragging rights! Last year I had the honor of flying aboard the Disabled American Veterans' B-52 Mitchell Bomber called Panchito which was flown in WWII including the Doolittle Raid in 1942. What an experience!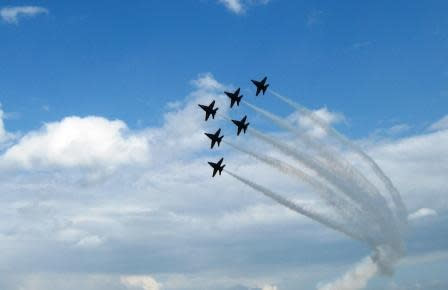 Plan Your Visit to the Florida International Air Show If you've attended the Florida International Air Show before, you'll notice a change. All events will take place at the north side of the Punta Gorda Airport and the primary parking is located on Airport Road across from the Charlotte County Jail. Punta Gorda Kiwanis will collect the $5 parking fee and free shuttles will transport attendees from the parking area to the air show entrance. If coming up from the Fort Myers area for the air show, use I-75 and take Exit 161 (Jones Loop Road) then follow Piper Road toward the Punta Gorda Airport. Those traveling from Sarasota or Tampa should follow I-75 south to exit 164 (Duncan Road/U.S. 17) then follow Golf Course Boulevard toward the airport. When visiting from Punta Gorda, use Airport Road. Don't worry, there will be plenty of directional signs guiding you where you need to be. Gates open at 9 a.m. both days with flying beginning at 10 a.m. and ending at 4 p.m. Event officials recommend bringing ear protection for young children. Sunscreen and chairs are highly recommended for everyone. Admission into the Florida International Air Show is $25 but when purchased online by March 23, save $5 off an adult admission. Visit www.floridaairshow.com. Interested in flying in history? Flights start range between $595 and $1,495.