Working together and helping each other during tough times is a universal human phenomenon, and many of our local restaurants are doing just that these days!
Many have partnered with a local real estate company to include free Frisbees in their take out orders. The initiative is called "Spread Joy Not Germs," and it's a fun way to socially distance yourself while getting some fresh air and Vitamin D—after a wonderful take out meal, of course. Visit the Charlotte County Curbside Restaurants group on Facebook for participating restaurants, and to find something new to try. 
Some of our local eateries going above and beyond are listed below. We encourage you to patronize not only those listed, but as many of our local restaurants offering take out and delivery as you can. You can find their listings here.
In addition to take out and delivery, Manatee Pizza has started a grocery delivery service! Check out both menus at their Facebook page. 
Uncle Nick's Pizza is offering take out, delivery, online ordering and specials, and more importantly, free food for people who cannot afford it. Visit their Facebook page for details. 
Helping out is nothing new for White Rabbit Saloon, and while not open to the public right now, they continue to do so. In addition to their work with EARS Animal Rescue, the military troop in Iraq they've adopted, and their work with Mission 22 for veteran suicide prevention, they've set up a contact-free food donation drop off in their parking lot to get food and supplies to those in need. While they can always distribute food and personal care items, they're especially looking for diapers, formula, and other child-care items. They're willing to pick up and drop off donations, as well. Visit their Facebook page for details. 
Luigi's Family Restaurant & Pizzeria has been in business 35 years and is all about taking care of their staff and serving the community. They're currently offering 50% off pizza, strombolis, calzones, and dinners, not only to help us all out, but in the hopes that if your bill is cut in half, you'll be able to tip your delivery driver or server a bit more. Visit Luigi's Facebook page for more information. 
In addition to offering take out to the public, Bella Napoli / Taglio Cucina & Pizzeria Romana, Carmelo's Italian Ristorante, and Visani Comedy Theater have teamed up to provide free meals to unemployed restaurant workers. They've done one giveaway so far, with another planned for Saturday, April 11, 2020. View this video or visit their Facebook pages for details.
Visani has also started a meal donation program. Visit their Facebook page for details and call them at 941-629-9191 to help.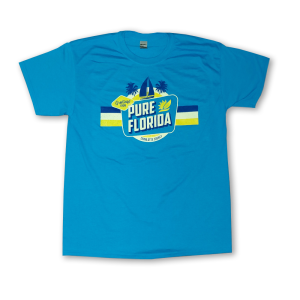 We applaud these establishments, and many others, who are working harder than ever to support and help the community and each other.
If you'd like to support Charlotte County residents in need, consider purchasing a super-cool limited-edition retro t-shirt, with all profits benefiting Community Organizations Active in Disaster (COAD) Florida. Learn more at BestSideYourSide.com.