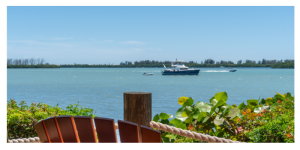 Visitors looking to experience that casual, laid-back Old Florida vibe know The Lighthouse Grill at Stump Pass in Englewood is the place to be. With fresh seafood entrees, juicy burgers, smokehouse wings, and ribs and pulled pork paired with frosty cocktails, live music, and glorious Gulf Coast sunsets, it's hard to find a more perfect place to spend an afternoon or evening.
Our open-air waterfront location is tucked away in a quiet little cove, adjacent to Stump Pass Marina, and accessible by car or by boat via mile marker 17A on the Intercoastal Waterway of Lemon Bay.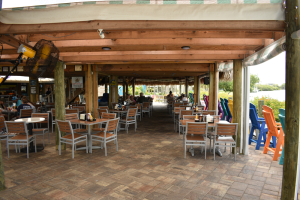 Our customers and guests enjoy the healthy benefits of our open-air dining concept, with the fresh air and bay breezes coming off of Lemon Bay. The tropical location allows our visitors to bask in the sunshine, delight in the sunsets, have a cocktail in one of our waterfront Adirondack chairs, enjoy pristine preserve views, and observe the activities of the local manatees, dolphins, and other marine life that are abundant in this area of the coast.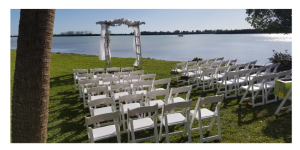 Our waterfront outdoor wedding and event venue, Sunset Terrace (operated by our Lighthouse Grill Catering team), has seen an increase of over 75% in our onsite wedding and reception bookings in 2020. The tropical "coastal casual" open-air sunset wedding concept continues to attract couples from all over. A key benefit is our experienced catering team, who work with each couple to create a custom wedding package from the menu to the entertainment, and can even provide an officiant for a true destination-style event. Our venue is also host to multiple events throughout the year, and our Tiki Bar operates Wednesday–Sunday when an event is not taking place.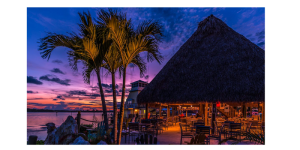 You're invited to come and experience our piece of tropical waterfront paradise. You can get more information, our current menu, and our live music schedule at TheLighthouseGrill.net. You can also make reservations on the site or by phone at 941.828.1368
We are open daily from 11:30 am to 9:00 or 10:00 pm, and only closed on Thanksgiving and Christmas Day.
Come visit! Like we always say "it's always cooler by the water!"