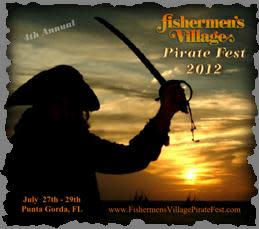 Fishermen's Village Pirate Fest, July 27 - 29, 2012 Avast! Pirates will pillage and plunder the local shops, watering holes and eateries of Fishermen's Village the last weekend of July. Landlubbers should be prepared to communicate with these buccaneers by brushing up on pirate speak. 'Tis rather simple to talk like a pirate as the five basic words/phrases all begin with the letter "A." Remember these five words and ye shall survive the pirate invasion at Fishermen's Village:
Ahoy! "Hello."
Arrr! It's important not to confuse this with "argh." This is a versatile phrase when you need to say something pirate-like.
Avast! "Yo! Stop, and pay attention."
Aye! "Yes, I agree."
Aye! Aye! "Yes, I'll get right on it."
Once ye mastered the basics, find a treasure trove of pirate-speak tips over on the International Talk Like a Pirate Day website or watch the video below for advanced pirate speak. Fishermen's Village Pirate Fest, July 27 – 29, 2012 Punta Gorda's Fishermen's Village happens to have a pirate problem and July 27 – 20, come mingle with these marauders during the family-friendly event. Watch the pirate boat parade, hear cannons thunder and visit a pirate encampment. Grab a cup 'o grog (cold beer) and raise it while viewing Blackbeard's Pirate Ship, meet a mermaid and browse the vendors to search for extraordinary treasures. Highlights of the weekend include music, the Pirates Ball (Friday) and Fire Show (Saturday). Have we mentioned the Walk the Plank competition into Charlotte Harbor? We dare ya to walk the plank then cannon ball into Charlotte Harbor to make a splashing impression. The three-day festival is produced by Pirates of the Treasure Coast, SIK Promotions & Fishermen's Village. Find additional information on their website and the event's Facebook page. http://youtu.be/fqMu6e5Dgtg