Since we only get an extra day once every four years, why not take advantage and make the day your own by trying something new and fun—or old and comfortable—this year?
We hope this list of 10 fun experiences inspires you to spend your February 29 doing something that makes you happy and content, or excited and invigorated, your choice!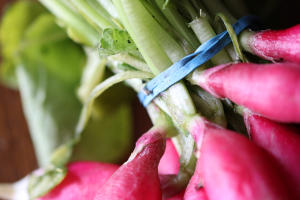 PG Farmers Market, 8:00 am—noon
Over 80 vendors during the "winter" season. Voted the best small market in Florida and 15th in the US. Fruits, vegetables, pickles, German bakery goods, fresh pasta, cupcakes, beef, fresh seafood, jewelry, candles, soaps, cheese, orchids, kettle corn, exotic plants, natural facial products, and much more, plus live entertainment! Visit facebook.com/PuntaGordaFarmersMarket.
Charlotte Harbor Kids Fest, 10:00 am—1:00 pm
If you're in the area with kids aged from infancy to 8th grade, there's no better way to entertain them than the free Kids Fest! Featuring prizes, giveaways, character meet and greets, photo ops, Sheriff's Department and FIRE/EMS "Touch a Truck," and more! Visit facebook.com/CharlotteFLParksRec for details.
Port Charlotte Doll Club 36th Annual Doll Show & Sale, 10:00 am—3:00 pm
Shop for and enjoy dolls—antique, vintage, and modern—and teddy bears and quality stuffed animals, vintage toys, related books, patterns, doll clothing, doll furniture and like items. Featuring raffles, helpers, identification and valuation, and a Doll Doctor on site Admission: $5.00; free parking. Visit facebook.com/DollShowUSA.
Lemon Bay Beer Fest, 11:00 am—6:00 pm
This inaugural event will feature music, vendors, food and of course BEER! Free general admission and $20 for Beer Garden tasting area (tasting runs 1:00—5:00 pm). Visit lbbeerfest.org and facebook.com/pg/LemonBaySunriseRotary.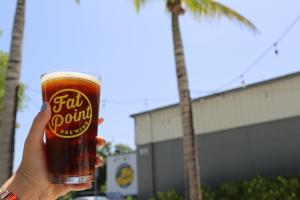 Fat Point's Fifth Anniversary, noon—9:00 pm
Fat Point is turning 5, and all are invited to the BIGGEST party in Punta Gorda! Enjoy $5 beers, the finest seafood boil in all the land, and a very special version of Bru Man Chu, which has been aged for five months in tequila barrels to give it an added kick! As an extra special treat, they're breaking out Beer-Puppeteer. Don't know what that is? Google it and be prepared to laugh! They'll also have giant Jenga, cornhole, Connect Four and more, as well as live music! Free and family friendly. Visit facebook.com/FatPointBrewing.
*Shorty's Place Pub Crawl, 1:30—5:30 pm
"The streets of Punta Gorda will be rocking!" Hosted by Deb & The Dynamics, with additional music from Mark Gorka—with Brent on drums. Search "Deb & The Dynamics" on Facebook.
3rd  Annual Bikes by the Bay, 6:00—9:00 pm
Featuring live music from Gas House Gorillas, food, drinks, and lots of vendors. All bikes and bikers of every stripe are welcome to this evening of music and fun. Start the party early with Biker Life Port Charlotte's group ride to the event! Visit facebook.com/pg/StumpPassMarina for event details, and search "Biker Life Port Charlotte" on Facebook for group ride details.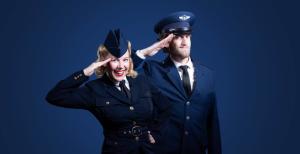 Letters from Home – Military Heritage Museum, 7:00—8:30 pm
This USO-style show features incredible high-energy performances by creator and founder Erinn Dearth, and self-proclaimed "tall guy" Dan Beckmann! Special guests and big bands are also available to add to these nationwide life-changing one-of-a-kind live shows featuring the music of WWII and Vietnam and beyond. Your memories will be filled with song. You will be charmed by comedy, charisma and personality. Your hearts will be touched forever with patriotism. Visit facebook.com/MilitaryHeritageMuseum.
Glass Fusing Intro Class at Bisque IT, 7:00—9:00 pm
Feeling crafty, want to make your own art or ornaments, or just curious about glass fusing? Bisque IT Studio's got you, with this intro class. Learn the basics in order to create your first piece of fused class art! $45 per person/limited seating/BYOB. Visit facebook.com/bisqueitstudiofun.
*Gatorz Leap Day Party, 7:00—11:00 pm
If you're looking for more of a rockin'/rollin'/party vibe, head over to Gatorz Bar and Grill. The band Tolerance Zero is hosting their Leap Day party and providing the entertainment! Visit facebook.com/tolerancezeroband