Whether you've made a spur-of-the-moment decision to spend the day on a deserted island or you're in need of some serious fishing, King Fisher Fleet  can accommodate most every on-the-water whim. Docked at picturesque Fishermen's Village in Punta Gorda, this family-owned business offers boats of all sorts for daily island, sunset, and nature cruises, private excursions and events, and back-bay and deep-sea fishing adventures.
King Fisher Fleet is ranked as the area's top operator for boat tours and water sports-based activities.
For nearly 40 years, King Fisher Fleet has introduced sightseers and anglers to the unique habitat, wildlife, and marine creatures of the 270-square-mile Charlotte Harbor Aquatic Preserve Estuary, the neighboring Peace River, the Gulf of Mexico, and back waters. It's this expertise that makes a difference: captains and crew practically read the water. They know by the tiniest ripple that passengers will soon hear the snort of a surfacing manatee or see a dolphin perform an aerial maneuver. They even sense the presence of tarpon and other big sport fish.
King Fisher's cruises include 90-minute sunset sails, half- and all-day island adventures, including excursions to the boat-accessible-only Cabbage Key and Cayo Costa. Dolphin sightings are always a possibility and passengers will also learn a little about local history and even some swashbuckling pirate lore.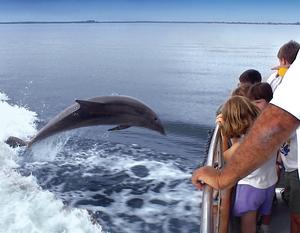 Explore the Islands
Spend just an hour on Cayo Costa, offered as a full-day excursion, and you'll realize you're on blissfully serene deserted island. Featuring nine miles of beachfront, pine forests and mangrove swamps, the island is a sheller's paradise, with opportunities to score the sought-after and elusive junonia and tiny angulate wentletrap. Pack a picnic lunch for the beach and bring a swim suit to snorkel or splash in the warm turquoise waters. 
Less than three miles away2, Cabbage Key offers a completely different island vibe. The 1938 winter home of author Mary Roberts Reinhart is now an inn and casual restaurant, the latter covered with signed dollar bills.
Although accessible by land, arriving by water to Boca Grande and Burnt Store Marina reflects the destinations' ties to the sea. The full-day trip to Florida's other Boca gives passengers time to explore the upscale island's downtown, offering boutiques, restaurants, and walking-distance beaches. A half-day excursion to Burnt Store includes two hours for a leisurely lunch at the onsite Cass Cay restaurant.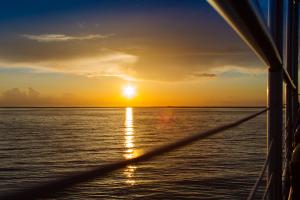 Sunsets and Eco-Adventures
King Fisher's Peace River nature cruise and afternoon harbor tour plunge passengers into the unique environment of the surrounding waterways, home to 800 dolphins, hundreds of manatees, sea turtles and marine birds.
Come dusk, there's a tendency to gravitate to the Gulf and King Fisher offers the ultimate viewing position for sun setting over the water: On a boat.
Cruises and private charters can be customized to your whim: weddings, anniversaries, a day of island hopping, on-the-water photo shoots and canal cruises, for as many as 100 passengers. Visit the website to peruse the calendar and make reservations.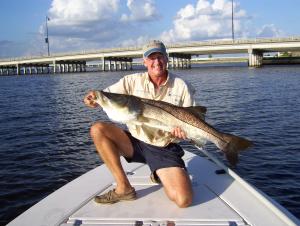 Fishing without the Fuss
For those who prefer not to sit back and enjoy the ride, King Fisher returns to its roots with deep-sea and back bay fishing charters that can also be tailored to groups and families of up to six people. The company was founded as a one-boat fishing guide by Capt. Bob Allen and his wife Helen, and is now in its third generation.
Bring sunscreen, something to eat and drink, and be prepared to snap selfies with your catch of the day. Rods, reels, bait and even a fishing license are provided for four-hour to full-day angling adventures. Even better, the crew cleans and fillets your catch, which can then be prepared by the Village Fish Market Restaurant & Lounge, also at Fishermen's Village.
King Fisher Fleet boasts several world-record catches and other impressive landings and has helped ambition anglers snag a Charlotte Harbor Slam, which is catching a snook, redfish and seatrout on the same trip (add a tarpon, and you've got a "Grand Slam").
The Allen family also is actively involved in organizations devoted to protecting the health of the harbor and its fishery. Second generation Capt. Ralph Allen is also an award-winning outdoor writer and photographer.