Many people are fascinated by fish, whether they're small in a bowl or huge in an aquarium; whether animated-and-cute or predatory-and-terrifying in a movie; or elusive on a fishing show and/or "in person." There's just something about the vast variety in shape, size, color, aesthetics, purpose, movement, and, well, taste!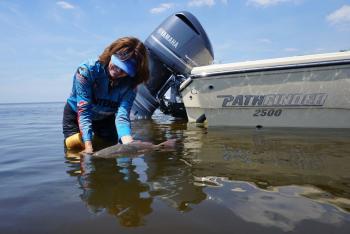 If you're a "fish person," any body of water inspires a scan for fish (and other water creatures). On that front, there's an embarrassment of riches in Punta Gorda/Englewood Beach. Our "good nature" sits on Charlotte Harbor, the second-largest open-water estuary and one of the most productive wetlands in Florida. The estuary encompasses the harbor itself and the river basins of the Peace, Myakka, and Caloosahatchee (via Pine Island Sound) rivers.
With this plethora of natural aquatic wonders surrounding us, it's no surprise that the fishing in Punta Gorda/Englewood Beach is amazing. It's incredible enough, in fact, to be frequently featured on Guidelines TV, a web series on fishing by a local captain, Jay Withers of Silver Lining Charters (based in Port Charlotte). The digital-based outdoor program streams on Waypoint Outdoors TV.
To fish is to commune with nature. To watch a fishing show is to be inspired and to vicariously experience relaxation spiced with anticipation, excitement, and usually (hopefully), satisfaction.
Guidelines TV delivers all that and more. Capt. Jay is a personable, relaxed, witty, and knowledgeable host and this series accentuates his passion for fishing, nature, and conservation. His appreciation of the Charlotte Harbor area is clear and as a full-time charter captain and the winner of numerous fishing championship placements, he knows—and loves—what he's doing. All these factors make watching his show enjoyable-verging-on-addictive. 
Guests run the gamut from other captains and conservationists to clients and friends. It's fun to see local and re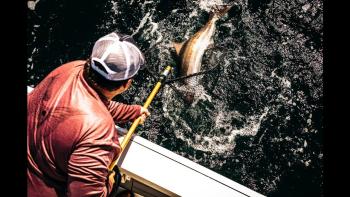 gional guests like Josh Greer, owner of West Wall Outfitters in Port Charlotte (and fly-tying expert), and Leiza Fitzgerald of Coastal Conservation Association (CCA Florida) thoroughly enjoy fishing with Capt. Jay.
The visuals are beautifully done. The Charlotte Harbor area is a natural wonder, and this stellar production showcases it perfectly with vistas one may never otherwise see. The underwater shots are especially impressive, clear and close-up.
With two seasons and 18 (so far) episodes, Guidelines TV is an entertaining and educational way to spend some home time. It just may also motivate future fishing trip planning!
Catch Guidelines TV here, and follow the show on Facebook for news on episodes, fishing tidbits, and contests.
Download our fishing guide and find fishing locations, captains and charters, and license information here, and make your plans now to get out on the water and live your own fish story!