Pictured: one of The Suites at Fishermen's Village
Above and Beyond
88 Keys at The Wyvern Hotel
"...what anyone else in our building would have done." -- Matt Nemec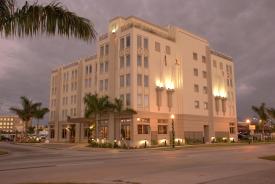 Here's a feel-good story that should last you awhile: a local couple, both of whom received cancer diagnoses within days of each other, very much wanted to go out for the wife's birthday. How on earth could they safely do it with their health issues?
They reached out to 88 Keys at The Wyvern Hotel to make reservations for a Tuesday night in order to have to deal with only "light" crowds, not realizing that the restaurant is closed on Tuesdays.
Rather than turn them away, the restaurant's development director Matt Nemec opened the restaurant just for them. In addition to bringing in a server and bartender to provide the whole 88 Keys experience, they comped the meal. Sure gives us the warm fuzzies! Read the whole story here.  
~
FRLA Seal of Commitment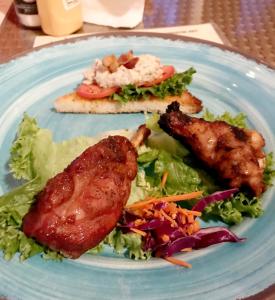 So far, five local establishments have invested the time and resources to earn the Florida Restaurant & Lodging Association (FRLA) Seal of Commitment. This is the highest designation for hospitality safety and sanitation standards and is a promise that the business meets safety and sanitation standards as designated by FRLA. When you see the Seal, you'll know that the business works to ensure that the location, staff, and guests remain safe and healthy. Our Seal of Commitment Recipients:
Burg'r Bar was the first establishment in our area to earn The Seal. This hometown favorite, which specializes in customizable burgers, also offers breakfast and other great lunch-time comfort food (including fried pickles!).
Village Fish Market is an award-winning New England seafood restaurant located in Punta Gorda's Fishermen's Village. Known for their whole belly Ipswich clams, breathtaking sunsets, and gorgeous waterfront dining.
Farlow's on the Water offers an amazing fusion of Caribbean cooking with a Southern twist. Everything is made fresh daily, and they even grow the herbs in their own garden at the restaurant!
SandBar Tiki & Grille offers great food, a relaxing atmosphere, and friendly people, as well as live music every day in their air conditioned dining room, outdoors on their patio overlooking the water, or even directly on their own beach!
Lock 'N Key Restaurant & Pub takes great pride in giving guests the finest of foods and service in a casual beach atmosphere just steps from Englewood Beach.
Reasons to Celebrate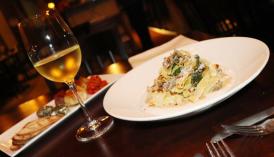 Acclaimed local restaurant The Perfect Caper has re-opened and they're very excited to be serving the community again! They are committed to their vigilant cleaning and sanitizing protocols as well as to keeping tables and guests spaced at maximum distance to ensure the safety of the community and their staff. They are reservation-only at the moment and there are a few extra steps for making those reservations. Contact them today at 941.505.9009 to book a truly exquisite dining experience.
Speaking of amazing food, Let's Eat, Englewood is taking place Sept. 17 through Oct. 1, 2020. Englewood's "restaurant week" affords the opportunity to experience a culinary adventure through the community without breaking the bank. Three-course dinners (and more) will be available for $26 and two-course lunches for $13. Keep an eye on the Englewood Chamber's site; participating restaurants will be posted shortly.
The Suites at Fishermen's Village are now available for reservations! Located on the second floor of your stay-and-play destination on Charlotte Harbor, The Suites are 1,000 square feet and sleep up to four. This perfect "staycation" getaway puts you just steps away from several waterfront fine dining options, shops, boutiques dessert destinations, and live entertainment.  Call 941.639.8721 or visit them online for rates and booking info.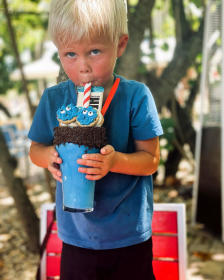 Sweet!
PG Social House in downtown Punta Gorda opened in August, and they're already helping people make wonderful memories! This great new space in Punta Gorda is where families and individuals meet for a fun outing, confectionery sweets, and shopping, in an outdoor courtyard embracing the true essence of community. Enjoy a selection of quality products including beer, wine, sweets, yummy desserts, milkshakes, and even an on-site furniture store.  Added bonus: they also have NY Cheesecake (add your choice of strawberry, cherry or blueberry topping for $1 more) and Chocolate Ganache Cake exclusively from Super Day Express, one of our local favorites.
You won't want to miss this unique experience.
Safely Engaged
G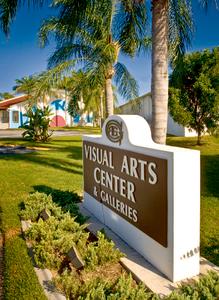 et inspired! The Visual Arts Center's Virtual Open House will take place on Facebook LIVE September 9—11, 10 am—2 pm. Meet a new VAC instructor on live video every 30 minutes, watch the live demonstration, then participate in a Q&A in the comments. All who comment will be registered for a giveaway.
Copperfish Books is currently holding a wide variety of author events and book clubs via Zoom. Visit their website to see what's coming up. They even have a link to a Zoom tutorial, in case you've not used it before of if you need a refresher.
Just Keep Fishing
There's still plenty of time to get out and get fishing for some prizes, because the CCA FL S*T*A*R fishing Tournament continues until Oct. 4. Any tagged fish caught by unregistered anglers means missed opportunities for amazing prizes, like a new boat and motor and trailer prize package valued up to $80,000. Don't be that person!
Remember, the Punta Gorda/Englewood Beach area had eight tagged fish released in our waters, which increases your shot of winning. If you're out there fishing, it may behoove you to register for the tournament! Stay up-to-date on what's happening with the tournament on their Facebook page.