What's in a name?
For Dan and Agnes Long, the owner/operators (and Captain and First Mate, respectively) of sailing charter Smoke and Roses, it's a reflection of what they did before becoming dream-living, world-traveling sailors: Dan was a fire department captain and Agnes had a business selling roses.
Their luxurious 47-foot vessel is meticulously cared-for and is equipped with a generator and air conditioning which cools all four staterooms and the salon. If the boat itself doesn't make you long for a day (or more) at sea with the wind carrying your cares away, their fascinating stories just might. Not long ago, they took some time off to sail around the world.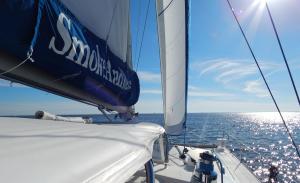 You read that right: they literally sailed around the world—30,000 nautical miles in 19 months. Posts about Galapagos sea lions spying at them through the hatch over their bed; getting up close and personal with pink iguanas on Leaf Island; snorkeling with whale sharks in St. Helena; and more, offer excitement and insight into what it truly takes to circumnavigate the globe. Rest assured, they'll be more than willing to talk to you about their adventures while safely guiding you on yours. 
Smoke and Roses offers a wide variety of cruises, from a few hours for a stunning sunset experience in the "ecological jewel" that is Charlotte Harbor, to up to seven days for a true sea-faring experience.
Sail on!