(Disclaimer: the author of this blog assumes no responsibility for any sailing-themed song/s getting stuck in the reader's head.)
How About Sailing? 
And what's in a name? For Dan and Agnes Long, the owner/operators (and "Captain and First Mate," respectively) of local sailing charter Smoke and Roses, it's a reflection of what they did before becoming dream-living, world-traveling sailors: Dan was a fire department captain and Agnes had a business selling roses.
They recently posted a virtual tour of their beautiful boat, and it's enough to make us want to sail right away! Their luxurious 47-foot vessel—meticulously cared-for, as evinced by the video tour—is equipped with a generator and air conditioning which cools all four staterooms and the salon. As an added bonus (outlined in the last shot of the video), if you "Like" their Facebook page and share the virtual tour post, you will receive a 5% discount on your 2020 booking!
If the boat itself doesn't make you long for a day (or more) at sea with the wind carrying your cares away, their fascinating stories just might. They recently re-opened for private catamaran sailing charters after taking some "time off" to sail around the world.
You read that right: they literally sailed around the world—30,000 nautical miles in 19 months—and their blog about the experience takes "intriguing" to a whole new level. As excited as Dan and Agnes are to be back offering their charters, we're just as interested in their travel stories.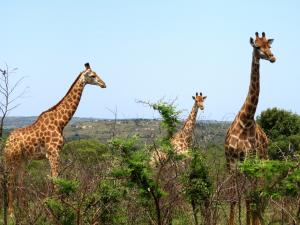 Posts about Galapagos sea lions spying at them through the hatch over their bed; getting up close and personal with pink iguanas on Leaf Island and with giraffes on a walking safari through the Hluhluwe/ Imfolozi Game Reserve (click the pictures for larger images); snorkeling with whale sharks in St. Helena (!); and so very much more (replete with tons of great images), offer excitement and insight into what it truly takes to traverse the world. We honestly can't get enough!
Rest assured, if you charter a trip with them, they'll be more than willing to talk to you about their adventures while safely guiding you on yours. In the meantime, we highly recommend you check out their blog for some amazing tales.
Smoke and Roses offers a wide variety of cruises, from a few hours for a stunning sunset experience in the "ecological jewel" that is Charlotte Harbor, to up to seven days for a true sea-faring experience. Visit their website for more details.
Call 605-366-7673 or email info@smokeandroses.com for reservations, and "set an open course."
Sail on!