National Ride the Wind Day is every Aug. 23!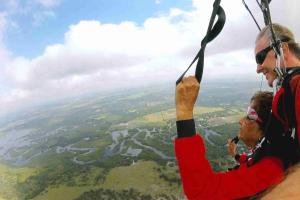 Although the day technically commemorates the anniversary of the first human-powered flight to win the Kremer prize, in Punta Gorda/Englewood Beach, to "Ride the Wind" manifests itself differently, and can be done any time of the year!
In honor of the day--and any other day--and in the spirit of self-powered flight, check out some of our windier activities: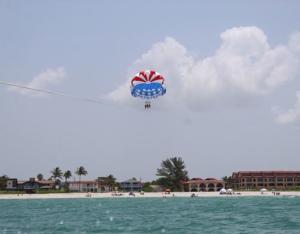 Literally ride the wind by jumping out of a plane at SWFL Skydive Club in Punta Gorda (check out one person's experience, here) or by parasailing at 1200 ft with Englewood Parasailing. You'll be privy to views not everyone is brave enough to experience.
Charter a captained sailboat (and either help to sail it or not) with Charlotte Harbor Sailing, LLC to put some lovely wind in your hair.
Master a personal power catamaran with Riding the Waves. It feels great on many levels and chances are good you'll see dolphins along with a plethora of birds and other wild life. The rush of piloting your own craft is, well, a rush!
Try to snag a fly ball at a Stone Crabs baseball game at beautiful Charlotte Sports Park. Catching a thing that was "riding the wind" just a second ago counts, right? Right!
However you choose to celebrate the day, you'll find something fun to do in Punta Gorda/Englewood Beach. We hope to see you here!