Updated 7/1/2020
Don't miss out on the Coastal Conservation Association (CCA) S*T*A*R fishing tournament, the largest family-friendly fishing competition in Florida! The tournament begins July 1, 2020, and ends Oct. 4, 2020.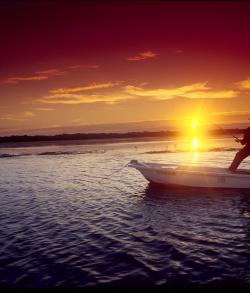 Compete for almost $500,000 in prizes, including boats, motors, scholarships, and more!
Because the the Punta Gorda/Englewood Beach Visitor & Convention Bureau sponsored the STAR's signature category, iHeart Radio Tagged Redfish Division, eight tagged redfish were released in Charlotte County waters. As you can imagine, this increases the shot a registered participant may land a major prize.
In case you need further incentive, during the 2019 competition, two anglers each caught tagged redfish in Charlotte County waters, and both won a boat, Yamaha motor and trailer!
As an added bonus, if you catch the first tagged dolphin, you could win $10,000 in cash or scholarship.
You can find your measuring device at our two local West Marine outlets:
West Marine – Port Charlotte
4265 Tamiami Trail
Port Charlotte, FL. 33980-2512
941-625-2700 | Website
West Marine – Punta Gorda
700 Tamiami Trail
Punta Gorda, FL. 33950
941-637-0019 | Website
Registration is $40 for current CCA Florida Members; $75 for 18+ (includes one-year CCA Florida membership); FREE for current, youth CCA Florida Members; and $10 for youth, ages 6 to 17 (includes New Tide Membership).
Register today at ccaflstar.com and follow the CCA S*T*A*R on Faceook for updates and great images from the tournament.
Happy fishing and best of luck to all!