Gulf of Mexico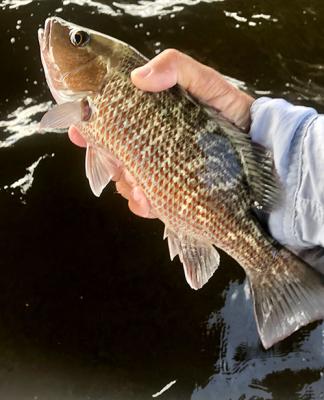 Most of the offshore angling this month will be focused on mixed-bag bottom fishing which is so productive that if you drop a bait onto just about any bit of rocky bottom from 10 to 25 miles out into the Gulf, you probably won't get it back.  Mangrove snapper, triggerfish, grunts, sheepshead, porgys, hogfish and other reef fish will keep anglers busy on spots 8 to 10 miles out.  Just a bit further out, if you work around patches of flat rock in 60 to 80 feet of water you'll find red grouper, vermilion snapper, porgies and lane snapper.  Fishing on wrecks or artificial reefs in about 80 feet or deeper will give you a shot at yellowtail snapper and possibly an amberjack.  Wherever you're fishing you'll want to keep an eye peeled for surface activity while you run out and back because Spanish mackerel might, just might, put in an early appearance off the coast this month, and bonita can crash the party at any time.  Look for sharks to show up along the beaches toward month's end.
Charlotte Harbor
Trout, sheepshead, mangrove snapper and redfish will be the headliners on most inshore trips this month.  Look for trout on the flats when the weather's warm, and in canals, creeks and boat basins when it's chilly.  Sheepshead spawning season is in full-on mode now, so just about every dock, rock, piling or other hard structure might hold a few sheepies, and some of the bigger structures hold a whole bunch.  Time-tested sheepshead hotspots include the El Jobean bridge pilings, the bridge reef, the Placida pier and the Phosphate dock, but the striped porgys can also be caught under docks and along seawall rip-rap throughout th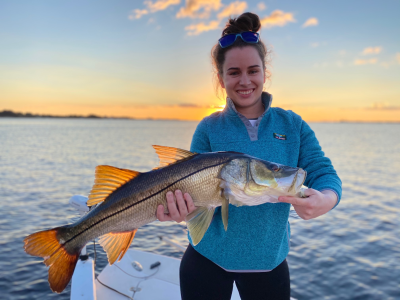 e region.  Redfish can be taken in the murkier waters of the mangrove creeks which are found all around the harbor and up the Peace River, but remember that redfish season is closed this winter so it's all catch-and-release on the reds.  Other fish will entertain this month too:  Pompano will come and go on the flats and bars on both sides of the harbor, snook will get active during the warmest weather, flounder will inhale shrimp around Cape Haze point and on the east side bar, bonnethead sharks and cobia will surprise a few lucky trout fishermen on the flats, and a handful of bluefish and Spanish mackerel will be caught.