Eating My Way Through Punta Gorda, Florida
Succulent crab meat, hours after being caught. A taste of France with local ingredients. The best ice cream in the United States. If there is one thing that Punta Gorda is known for, it's the food and dining scene.
When a media group came to visit for a three-day culinary tour, I was fortunate to join them in experiencing the local cuisine. For three days, we visited numerous restaurants and these three stood out:
Trabue Restaurant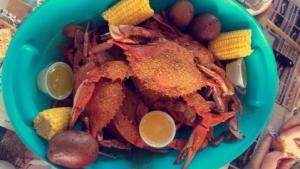 Peace River Seafood is a one-of-a-kind place. Its name originated from catching all its seafood from the Peace River in Charlotte County. We met general manager Larry Corbin who let us hand-pick our blue crabs – caught that morning! While we chose, Larry joked, "I always say if you bite me, I'm eatin' ya."
After we chose our crabs, they were placed in the steamer to cook. Then, we watched the chef prepare the famous gator gumbo, while Larry told us more about the authentic restaurant. We learned that commercial fishermen bring fresh seafood to the shack every morning, and they only sell menu items until they run out. "Everything's gotta be fresh or we don't have it," Larry said.
Once our blue crabs were ready, Larry seated us and demonstrated how to eat them. This got messy, and Larry joked "When you're eating blue crabs, you get very intimate with your food."
After finishing the crabs, we were served the freshly prepared gator gumbo and of course, we could not leave without trying the famous key lime pie!
Next, we joined LaVerne Roberts, owner of Southwest Florida Food Tours, for a food walking tour.  She took us to several great places and these two stood out: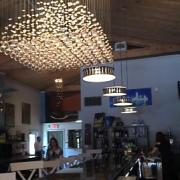 Trabue Restaurant captivated me. Not only was the food superb, the aesthetics were breathtaking. Chef Keith Meyer was the epitome of hospitality! When I took my first bite of a popular French dish I tried to figure out what was in it. I thought maybe mushrooms, but after another bite, I determined it was snails! This was the first time trying escargot and although I wanted to be disgusted couldn't because I loved it!
The other standout place on the walking tour was Harborwalk Scoops & Bites – selected as the number one ice cream shop in the U.S. by TripAdvisor users! Anyone who knows me knows I LOVE ice cream. Excited is an understatement to describe how I felt. Forty four ice cream flavors are impressive enough but what struck me was the location and the owner's modesty.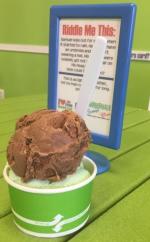 The location of Harborwalk Scoops & Bites is unlike any ice creamery in the area. You can guess from the title that it is located on the harborwalk, with a beautiful view of the Peace River. You can enjoy it from inside, or sit outside, beside the harborwalk.
The owner, Ron Thomas, was there and the first thing we noticed was that there was no sign of boasting their special title – no poster on the door, just one sign in the back. When asked why, Ron said, "Don't get me wrong. It's great, but it's about what we do today. It's about making that connection with customers."
That is why Harborwalk Scoops & Bites is the number one ice cream shop in America.
The culinary scene in Punta Gorda is phenomenal. Although the restaurateurs should be rivals, they partner to create an otherworldly dining experience for this community. You won't get that anywhere else, and I'm glad that I had the opportunity to experience it.