(Lidded ceramic jar by Jack Vartanian)
(Updated 1/9/2020)
It's not hyperbole to say that Punta Gorda/Englewood Beach is bustling and bursting with art and craft in all media; artists of all stripes' creative spaces and retail shops; and myriad natural inspiration. I'll never be able to cover everything, but will soldier on with Creative Confluence:  Punta Gorda, Part 2:
Anderson's Bead Room Even if you're not a "crafter," per se, you should think about a visit to Anderson's Bead Room when you're in the area. It's a wonderland of color and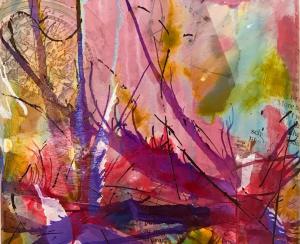 texture, and if you can catch one of their beading classes, you can walk away with a beautiful souvenir of your trip to Punta Gorda/Englewood Beach! 24600 Sandhill Blvd.
Visit the Artisan Atelier of Punta Gorda, Florida to browse and buy art, and even witness its creation—you will often find some of the artists working on the sidewalk on Olympia! 117 Herald Court Centre, Unit #113. Pictured: Alcohol ink painting by Leah Griffiths, click for larger image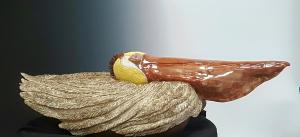 The Potter's Studio and Gallery is seven stellar pottery artists producing handmade, innovative and contemporary pottery pieces, from functional to whimsical. Each artist explores a wide range of distinctive designs and glazes. A great place to explore and buy local art whether you're a visitor, a local, or a seasonal resident. 1133 Bal Harbor Blvd., Ste. 1151. Pictured: Stylized ceramic pelican from The Potter's Studio and Gallery, click for larger image
Renaissance Academy, Florida Gulf Coast University, Punta Gorda Campus offers classes of all kinds and a sizeable collection of artworks for sale. 117 Herald Ct., #211.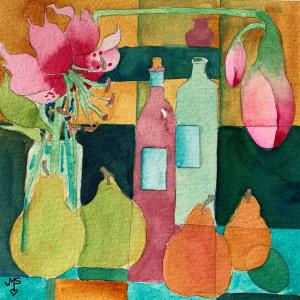 Sea Grape Gallery is a magical place, full of original art creations including fine art painting, photography, pottery, glass, woodworking, jewelry, kaleidoscopes, knives, and basketry. This non-profit artist co-op is conveniently located in the heart of Downtown Punta Gorda, and is the site of "Art with Wine," each Third Thursday Wine Walk, featuring wines from Gilded Grape Winery and Wine Bar, as well as art demonstrations. 113 W. Marion Ave. Pictured: #07 in Joanne Stramara's latest series: 50 paintings/50 days; click to visit the artist's site.
Stoneware Pottery by Jack Vartanian & Friends features decorative and functional high-fire pottery and fused glass, handmade and wheel-thrown by a variety of accomplished artists. They also offer 6-week pottery classes, perfect for seasonal residents. 1080 Taylor St.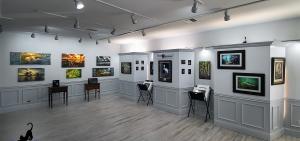 David Sussman Gallery at Sandman Books Aside from the fact that books are inherently creative, Sandman Book Company has installed a stunning gallery of award-winning local photographer David Sussman's work. Book and art shopping in one location, what could be better?  5240 Duncan Rd. Pictured: Sussman Gallery at Sandman Book Company; credit: Sandman Book Company and David Sussman, click for larger image
Everywhere you turn in the area, you'll see art, both human-made and natural, and our artistic community welcomes you!
Catch up and read Creative Confluence Part 1 and read the next in the series, Creative Confluence Part 3: Port Charlotte.